MIR3, Inc. Establishes European Headquarters in London
Please note: In April 2011 Think London merged with Visit London and Study London to become London & Partners. These archive press releases are here for information only.
MIR3, Inc., the innovator of real-time global notification and response technology, today announced the establishment of its new European operations, MIR3 UK Ltd., with the opening of a London office.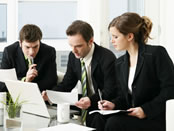 Strategically positioned in the heart of London's financial district, MIR3's new European headquarters will enable enterprise companies, colleges, universities, and government entities throughout Europe access to its best-in-class notification technology.
As a part of the company's aggressive international expansion plan, the new London operation will provide MIR3's current FORTUNE 100 company clients with local support including IT alerting, business continuity and disaster recovery messaging, emergency management, customer relations automation, logistics and human resources communication.
"In this day and age, important message delivery is more critical than ever before to global enterprise companies and organizations. With our new location, we are well-positioned to expand our award-winning notification solutions throughout Europe, while providing current clientele with exceptional local support," said Frank Mahdavi, chief strategy officer and director of MIR3 UK Ltd. "We are excited to join London's thriving economy, and help organizations across Europe enhance their communication abilities."
MIR3 UK ltd is located in 9 Devonshire Square, London, EC2M 4YF.
Notes to Editors
About MIR3
MIR3, Inc. is the leading developer of intelligent notification and response software, which helps organizations enhance communication abilities, protect assets, and increase operational efficiency. MIR3's technology enables advanced rapid, two-way mass communication for IT, business continuity, and enterprise operations for more than 85 of the FORTUNE 100 companies, as well as government entities, universities, and companies of all sizes in more than 130 countries. For more information, visit www.mir3.com
Contact
Please contact the London & Partners PR team.