London's top chefs return to London Eye to serve up eleven nights of fabulous food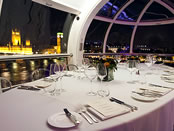 -Tickets for the 2010 London Restaurant Festival go on sale to the public today
-The Merlin Entertainments London Eye to be transformed into fine dining restaurant for a record 11 nights; chefs cooking include Gordon Ramsay, Richard Corrigan, Angela Harnett and Giorgio Locatelli.
-The highly popular Gordon Ramsay night will again be auctioned off for charity.
Opening in just over four months, the 2010 London Restaurant Festival (4-18 October) in partnership with American Express, today revealed the impressive line-up of top London chefs who will be cooking in London's most sought-after pop-up restaurant. After its sell-out debut last year, the 2010 festival will see the return of gourmet dining on the London Eye for eleven nights (an increase from the six sold-out nights last year). One capsule will be transformed each night into the capital's most exclusive restaurant, completing one rotation for each course. Each evening, ten guests will enjoy dinner 135m above the River Thames with what's been described as the UK's most exclusive chef's table.
The reveal of the eleven chefs also marks the fact that tickets for all London Restaurant Festival events including the London Eye nights are on sale to the public from today at http://www.londonrestaurantfestival.com
This year the eleven chefs invited to take part include London's leading chefs and restaurants including: Gordon Ramsay, Angela Hartnett, Richard Corrigan, Giorgio Locatelli, Atul Kochhar and Mark Hix. Other top London restaurants serving up exclusive meals will be The Ivy which will see Gary Lee, Head Chef of The Ivy, create a special 20th anniversary menu which will celebrate The Ivy's much loved and diverse dishes from the past 20 years. Other top restaurants including the popular Hakassan and L'Anima will also be taking part. Two new international chefs to be added to the London Eye line-up (and who have recently made London their new culinary home) include New Yorker, Daniel Boulud who has just opened his first London restaurant 'Bar Boulud' and Michelin starred chef Joel Antunes who has returned with his new restaurant 'Brasserie Joel'.
Mayor of London, Boris Johnson, who supports the Festival, commented: 'London's unbeatable restaurant scene has become home to some of the world's most creative chefs. The sheer scale of the capital's gastronomic delights is testament to the vibrancy of our city and the London Restaurant Festival is a fantastic way for people to experience some amazing dining experiences.'

Last year, the Gordon Ramsay night was auctioned off at a charity event where a mystery bidder paid an impressive £23,000. Once again the three-Michelin starred chef has agreed to auction off his 2010 Festival night to raise money for the charity StreetSmart, which will be the official charity for the 2010 London Restaurant Festival.
The charity works with London's homeless to provide food, clothes and shelter and is well known for working with London's restaurant industry to raise money. As well as the auctioned Gordon Ramsay capsule, a percentage of the ten other capsules sold will also be allocated to the StreetSmart charity.  
Each person to buy a capsule will have a top London chef create a delicious four-course meal for them and nine guests. There will also be a Champagne reception which will be hosted at the brand new Park Plaza Westminster Bridge Hotel and will be provided by the official London Restaurant Festival champagne sponsor G H Mumm. A varied wine selection which has been designed to complement each menu will also be served. As well as having one of the most stunning views in London, the ten diners will be able to meet the chefs who will be personally cooking for them all night.
Notes to Editors
Contact