London's Business Tourism (Working) Group announce chair as Bob Cotton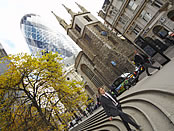 Bob Cotton OBE was today named by the Mayor of London's office as the new chair of the London Business Tourism group (LBTG). Cotton, the present Chief Executive of the British Hospitality Association, was officially announced at the group's first meeting of the New Year.
 
He will take up the position of chair with immediate effect and will help develop London's business tourism group, established in September of last year. The group is an initiative spearheaded and driven by Visit London with the full support and endorsement of Mayor of London Boris Johnson, his Economic Director of Policy, Anthony Browne, and Director of Marketing, Daniel Ritterband.
Cotton comes to the LBTG with a wealth of industry knowledge from roles at the British Hospitality Association where he has been Chief Executive for over 10 years. Before his role at the BHA Cotton was advisor at the DCMS and previous to that spent over 20 years with THF.
At the Group meeting objectives for the year ahead were outlined. These included coordinating a city communications programme that will strengthen the communications between major event organisers and major London public suppliers, such as TfL. The group discussed ways in which London can improve on the overall city welcome for business visitors, in particular large groups attending conventions, and ways in which the capital's civic engagement can be strengthened through both public and private sector support.
Daniel Ritterband, the Mayor's Director of Marketing, who has been charged with the group's development, said: 'Attracting conferences, congresses and all forms of business tourism is incredibly important for the London economy and the Mayor is keen that everything is done to strengthen the capital's offer as the world's greatest business destination. We are delighted that Bob has taken up the role of chair and he brings with him a wealth of experience. His appointment will strengthen the group as well as the profile of the business tourism industry in the capital and we all look forward to working with him.'

Tracy Halliwell, Director of Business Tourism at Visit London added 'The second meeting of the LBTG was particularly successful as we were able to introduce the new chair to the group and also agree a number of objectives for 2010. Visit London is determined that this group is one which makes real and valuable changes to London's business tourism offer.'
The LBTG will meet again in April 2010.
Notes to Editors
Contact