London Retains Position as No 1 for Overseas Investment
Please note: In April 2011 Think London merged with Visit London and Study London to become London & Partners. These archive press releases are here for information only.
The UK Capital continues to inspire confidence amongst foreign direct investors.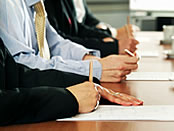 Overseas business investment into London has been given a vote of confidence with the announcement that London has been named as the leading European City of the Future for the third time, once again topping the league tables at the biennial European Cities & Regions of the Future awards, run by fDi Magazine.
London has emerged as Europe's most prominent destination for foreign direct investment after coming out on top in three out of seven categories - Infrastructure, Human Resources and Economic Potential. London also claimed second place in the category of FDI Strategy, triumphing in more categories than any other city in the Major Cities group.
London's dominant position is not surprising, as figures demonstrate that London has attracted over a third more foreign direct investment projects during this period than any other European city. The rankings take into account the potential for economic development and the attractiveness of inward investment.
The Mayor of London, Boris Johnson, said: "Yet again London has retained its prestigious crown as top city of the future - and rightly so. The capital is bucking the downturn, investing huge sums to improve its infrastructure, through projects like Crossrail and the 2012 Games.
But it is London's many other great strengths - from its unique diversity to its high quality of life - that keeps it ahead of the game and such an attractive city to live, work and invest in. And now as we emerge from the recession, these qualities are what will drive it forward to an incredibly bright and prosperous future."
Download European Cities and Regions of the Future 2010-11 [PDF 376KB]
Notes to Editors
About the Mayor of London
Created in 2000, the role of the Mayor of London is to promote economic development and wealth creation, social development, and the improvement of the environment, in the UK's capital city. The Mayor chairs several boards that deliver services for London including the transport and police authorities and sets out plans and policies covering: transport, planning and development, housing, economic development, regeneration culture, health and the environment.
Contact
Please contact the London & Partners PR team.