The London Restaurant Festival 2010 Awards close this year's hugely successful festival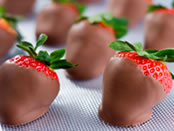 The grand finale of the 2010 London Restaurant Festival took place last night (18 October) with the London Restaurant Festival Awards at Old Spitalfield's Market. The evening also marked the end of a hugely successful two-week long celebration of London's extraordinary restaurant scene.
The awards were exclusively open to restaurants participating in the Festival and focussed on the best Festival Menus of 2010. Over 20,000 Festival menus have been enjoyed during the Festival, is over double the figures for 2009.
Old Spitalfield's Market (which hosted the Festival market) was the venue for the high profile Awards. In a sign of the Festival's growing influence and scale over 450 of London's chefs, restauranteurs and press attended the awards.
Managing Director Raymond Joabar from the Festival's main partner American Express, addressed the guests and confirmed the company's commitment and enthusiasm for the London Restaurant Festival. Thomasina Miers' Wahaca were among the restaurant providing food from stalls and G. H. Mumm built a bespoke champagne bar.
Four awards were given out for Best London Restaurant Festival menu voted for by the public through TopTable.com and the LRF official website. Awards were given in each price category from 'Under £10' up to '£25 and above'.
Seven special judges' awards were also created and voted for by the Evening Standard's Fay Maschler – the Festival chair - and a group of distinguished restaurant critics including Giles Coren, Tim Haywood, Tracy McLeod and Marina O'Loughlin and included categories such Bravery, One Person's Passion, Warmth & Welcome and Understanding of Ceremony and The American Express Award for Innovation.
Simon Davis, Festival Director said: 'The Awards are the culmination of the London Restaurant Festival and those for best Festival Menus are particularly important as they recognise the enormous effort and creativity of those London restaurants that have thrown themselves into the festival and served astonishingly impressive menus - also, they are voted for by the public, London's fiercest critics. To win one is a real achievement.'
He added: 'The other awards are for categories such as One Person's Passion, Warmth and Welcome, Discovery and Bravery. Fay and I find the bog standard Best Italian, Best French and so on rather dull so created these slightly more inspiring ones. The London Restaurant Festival is only in its second year but already we have over twenty events and 550 restaurants taking part - the awards are regarded by the industry as ones they really want to win and are the festival finale.'
Public voted awards for Best Festival Menus voted for by TopTable.com
Best Festival Menu Under £10
Dishoom (lunch menu for £7)
Best Festival Menu £10-15
Juniper Dining (dinner – 2 courses for £15)
Best Festival Menu £15-25
L'Anima (3 courses for £25)
Best Festival Menu Over £25
Bistro Bruno Loubet (3 courses for £30)
Judges Awards
Bravery
Winner:  Viajante
Runners up:  Bistrotheque, Bob Bob Ricard, L'Art du Fromage, Mestizo
One Person's Passion
Winner:  Jeremy Lee
Runners up:  Jonathan Jones (Anchor & Hope), Ms Marmite Lover (The Underground Restaurant), Pierre Koffmann (Koffmann's at The Berkeley), Thomas Blythe (St John)
Warmth & Welcome
Winner:  Caravan
Runners up:  Boundary, Bull & Last, Texture, Tinello
Understanding of Ceremony
Winner:  Rules
Runners up:  28-50, Galvin La Chapelle, The Goring, Min Jiang
Discovery
Winner:  Koya
Runners up:  Ganapati, Madsen, Mestizo, The Tapa Room
Fun
Winner:  Ciao Bella
Runners up:  Bob Bob Ricard, Byron, Dean St Townhouse, Dishoom
The American Express Award for Innovation
Winner:  Pablo Flack and David Waddington (Bistrotheque, Reindeer, Flash, Studio East, The Supersonic Masonique Supper club)
Notes to Editors
Contact