London remains top for business - 2010
Please note: In April 2011 Think London merged with Visit London and Study London to become London & Partners. These archive press releases are here for information only.
London retains number one position for best business city in Europe overall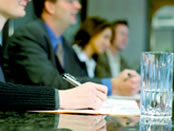 The latest European Cities Monitor 2010 has ranked London for the 21st consecutive year as the number one European city in which to locate a business. London is positioned as the number one city in six of the 12 major rankings including:
access to markets, customers and clients
availability of qualified staff
quality of telecommunications
languages spoken
international transport links
internal transport links
London, Paris and Frankfurt remain the top three European locations sitting comfortably ahead of all other challengers. London jumped from fourth to second in the category of "best cities in terms of the climate governments create for businesses" through tax policies and availability of financial incentives.
The UK capital also saw an increase in the proportion of nominations in the category of "cities which are perceived as doing the most to actually improve themselves", ranking London among the top three.
The Mayor of London Boris Johnson said: "Yet again leading companies are telling us that London is the best city in Europe in which to do business. We are working hard to ensure the city sets the benchmark as the top destination for business and tourism, and to maintain that status we must stand firm against any plans for unnecessary overregulation and continue to invest in our skilled workforce.
"That is why we must push ahead ahead with investment in improving the capital's infrastructure. It is projects such as Crossrail, the Tube upgrades and the London Games that will secure a bright future for our city and strengthen its reputation as a Europe's business headquarters."
The European Cities Monitor (ECM) is the annual location survey of Europe's leading companies carried out by global real estate consultant Cushman & Wakefield.
The survey, undertaken by market research firm Taylor Nelson Sofre BMRB, is based on interviews with senior managers and board directors in charge of location of 500 top European companies. It looks at factors regarded as important by companies when deciding where to locate, and then compares the performance of 36 of Europe's leading business cities on each factor.
*Source: London 2020 – Competing in a new FDI era [PDF 879KB]
Contact
Please contact the London & Partners PR team.