London named as Ultimate European Sports City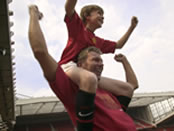 London was today named the ultimate city in Europe to hold major sporting events. As well as topping the European chart the UK capital was named third in the world according to an industry analysis of sports cities globally.
Compiled by SportBusiness Group, the analysis sought to determine which city in the world is the 'Ultimate Sports City' in terms of hosting a sports event.
In further detailed analysis London also scooped first place for 'XL' city in terms of size and won overall category for best 'Hosting Experience - Events'.
The global 'Ultimate Sport City' top five included Melbourne in first place with Singapore in second, Germany's capital city Berlin just behind London in fourth place and Melbourne's Australian rival Sydney in fifth.
Twenty-five cities made the initial cut based on their history of hosting sports events and were then interviewed and ranked according to SportBusiness and independent consultant Rachael Church-Sander. The marking criteria included the number of annual sports events held, major events held or won between 2006 and 2014, number of federations hosted, facilities/venues, transport, accommodation, government support, security, legacy, public sports interest and quality of life.
London's entry to the SportsBusiness list was submitted by Visit London's Events for London team.  The team, currently in Dubai attending the global sports convention SportAccord, are tasked with bidding for, growing and attracting major sporting events to London.
Head of Events for London, Iain Edmondson, commented on the findings at the first day of SportAccord: 'We are thrilled with London's place in the global list. We recognise London's role as a genuinely global city which is diverse, inspirational and dynamic. As part of our vision for London to be the world's most exciting major events destination we are currently focused on ensuring there is a seamless transition between the 2012 Games and the use of the new Olympic Park venues (Stadium, Velodrome, Aquatic Centre, Indoor Arena, Hockey Centre and Park) which will be so crucial to London's event landscape in the future. We are delighted to be named as the ultimate in Europe and with the overall third position in the global ranking - one day we hope to be number one.'
He added: 'As a destination for major sporting events, London offers a genuinely diverse audience (with resident communities from over 200 different countries). Events are in the city's DNA and London a dynamic event-going audience of residents (over 7 million people) and visitors (14 million international visitors per year).'
The full results will be published in the Ultimate Sports Cities 2010 Report during May 2010 along with detailed case studies on the shortlisted cities and interesting cities that just failed to make the cut.
Notes to Editors
Contact