London 2020: Competing in a New FDI Era
Please note: In April 2011 Think London merged with Visit London and Study London to become London & Partners. These archive press releases are here for information only.
London is best placed to benefit from the predicted influx of foreign direct investment (FDI) from developing countries.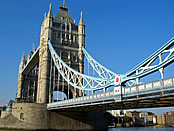 This is one of the key findings of London 2020: Competing in a New FDI Era. The independent report by IBM Plant Location International and Chatham House, home of the Royal Institute of International Affairs, has been commissioned by Think London and identifies four key drivers for FDI over the next decade.
Whilst London has maintained its position as the number one destination for overseas investment, it is clear that in a changing business environment London must actively seek to develop its unique strengths as a world city in the face of growing global competition.
The Mayor of London, Boris Johnson, said: "Research shows that foreign direct investment remained resilient throughout the downturn and played a key role in safeguarding jobs in London. However the recession has had serious implications on the capital's economy and it is no time to rest on our laurels.
"We are continuing to invest huge sums to improve the capital's infrastructure, through projects like Crossrail and the 2012 Games. It is also the capital's many other great strengths - from its unique diversity to its high quality of life - that keeps it ahead of the game and such an attractive city to live, work and invest in. I will continue to sell our many attributes to our foreign investors to ensure that international confidence in London remains high."
The report has identified the following key global FDI drivers for business, and outlines how these must be developed for London to retain its position as the world's leading FDI destination. These are:
Efficiency
New FDI activity is predicted to focus on consolidation and the optimisation of business operations. As such, it will become increasingly important to develop London as the destination of choice for overseas investors wanting efficiency to go hand in hand with global expansion. It is expected that companies will start to reconfigure their global footprints to take advantage of lower operating costs and, in response, London will need to cap business costs and avoid costly regulation and taxation. Additionally, international firms will benefit from London's access to a concentration of specialist business clusters, a skilled workforce and new technology as it reduces the costs of doing business abroad in multiple countries.
Talent
As workforces become more fragmented, businesses are reshaping their global footprint in order to access talent and facilitate recruitment. London's research establishments and educational institutions are capable of attracting skilled staff and growing the next generation of talent. It will be essential to ensure the continuation of excellent training and educational opportunities to assist in growing the talent pool and maintaining R&D activity into the future.
Innovation
The UK has the fewest barriers to entrepreneurship in the world and should become a hub for innovation, using technology to enhance efficiency and mobility. Smarter buildings, low-carbon transport, greener energy, electric vehicles, dedicated cycle lanes and improved pedestrian thoroughfares will all demonstrate London's forward-thinking culture.
Globalisation
Developing countries will be the main driver for growth over the next decade; to ensure that London remains the key springboard for international expansion and business development, it will become increasingly important to pro-actively target the emerging and rapidly developing markets, as well as continuing to improve the capital's transport infrastructure. London must also develop the global reach of key professional institutions such as the capital's insurance and accountancy organisations, the City of London, trade guilds and educational establishments.
Download the report London 2020: Competing in a New FDI Era [PDF 879KB]
Notes to Editors
Contact
Please contact the London & Partners PR team.