Lights, Camera, Attraction...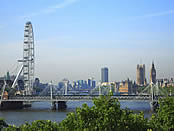 Visit London, the official visitor organisation for London has launched four mini-films which give advice and tips for the Associations industry. The bespoke films entitled 'Why London' 'Social London'. 'Big London' and 'Value London' are all subjects taken from Visit London's new free Associations Directory which has been produced as a free downloadable and hard-copy guide for the associations sector and is available to collect at EIBTM.
The films which have been created by Visit London's dedicated associations' team are available on YouTube from today at: http://www.youtube.com/visitlondonbusiness and highlight the vast array of business venues, attractions and hotel offerings which are available in London for large associations and congresses.
Becky Graveney, Head of Associations for Visit London said:
'A picture speaks a thousand words, so therefore we felt that a short film would be ideal platform to communicate with busy Associations teams and event planners. We wanted to highlight just how attractive London is for the associations sector especially now we have London's first ICC at ExCeL London. We also wanted to highlight just how much Visit London can support associations - from the moment they decide to bid right through to when their delegates arrive.'
The association films are just one of a number of proactive initiatives created by the Visit London Associations team. Other initiatives included an associations-focused section on http://www.visitlondon.com/associations, an association marketing toolkit, the new bespoke association's directory and a bi-annual association e-newsletter.
Notes to Editors
Contact