Japanese European Headquarters Expanding Business in London
Please note: In April 2011 Think London merged with Visit London and Study London to become London & Partners. These archive press releases are here for information only.
Two thirds of Think London's Japanese clients operating European headquarters in London are planning to expand their offices in the coming months, compared to only one third in the period between April 2009 and March 2010.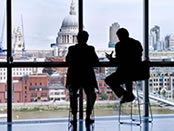 Think London is the official foreign direct investment agency for the UK capital. Among the most prominent companies embodying the trend is Nomura, the global investment bank, which has announced that it will be moving to its new European headquarters at the heart of London's financial district later this year.
As existing Japanese firms are expanding business in London the number of new Japanese investors setting up business in London has jumped by more than a third since last year, and the trend continues. Between April 2009 and March 2010, Think London has seen a 37% increase in Japanese foreign direct investment. In the first six months of this year, Think London has already signed up four-fifths of the total number of Japanese projects taken on during the whole of the last financial year 2009-10.
London has recently been named the leading European destination for foreign direct investment for the 12th year running* and is home to more of the world's largest companies than any other European city. It is the number one destination for European headquarters, having attracted three times more (135) than any other European city since 2003. (fDi Markets, 2009)
*Source: Ernst and Young, European Attractiveness Survey 2009.
Notes to Editors
Selected Japanese European Headquarters in London
Canon Europe
Docomo Europe
KDDI
Mitsui & Co Europe Holdings
Nissan Design Europe
Nomura
Ricoh Co. Ltd
Sony Computer Entertainment Europe
Takeda Pharmaceuticals Europe
The five key reasons for Japanese businesses to set up an office in London
London is a European hub for transport
London has a unique concentration of specialist business clusters
London is also one of the world's leading global financial centers  
London pools top talent from all over the world, offering a regional labour pool of over nine million people – the largest regional workforce in Europe
London is at the centre of world time zones, making it possible to work across different time zones in one working day
Source: Think London
Contact
Please contact the London & Partners PR team.