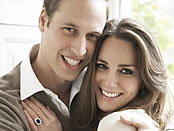 As excitement grows following today's announcement about the Royal Wedding of HRH Prince William and Kate Middleton, Visit London, the official visitor organisation for London estimates that the economic benefit to London could be between £30m and £50m* from domestic and international visitors to the capital.
Thirty years ago, the wedding of Prince Charles and Lady Diana brought an additional 600,000 visitors to the capital and with the popularity of Prince William and Kate this figure could increase significantly.
As a city that already hosts a number of major events, including the famous London Marathon that itself sees over 1million spectators, the capital is well placed to host such a historic global event, and with an average of 500,000 visitors in London per day, the Royal Wedding could see visitor numbers exceed those from 1981.
Commenting of today's good news, Visit London, CEO, Sally Chatterjee commented:
'We at Visit London are delighted by today's news and we would like to take this opportunity to congratulate the happy couple. Visitors, both domestic and international often come to the capital to explore its rich royal heritage and we look forwarding to welcoming visitors to London to enjoy the atmosphere in 2011.'
While the country waits for the official 2011 date to be announced, why not take some time to enjoy the Royal heritage that London already has to offer.
Dress up for the big day!
Make sure your suit is up to Royal standards with a trip to Savile Row for some bespoke tailoring and ladies should choose the perfect hat from one of the capital's famous department stores such as Selfridges, John Lewis or Harvey Nicholls.
Shop like the Queen
There are a huge number of stores with a Royal Warrant so make you stock up the cupboard from Fortnum and Mason, get the latest fashion from Burberry or make a date in your new Smythson diary!
Picnic in the park
As the wedding day approaches, why not celebrate with a very British picnic in one of the capital's Royal Parks. Just a stone's throw from Buckingham Palace are St James Park and Hyde Park or head to Greenwich Park for the incredible views of the city.
Royal attractions
Every year, visitors to London come and enjoy the capital's Royal attractions such as the Tower of London, the National Maritime Museum, Westminster Abbey and St Paul's Cathedral and the ever popular Changing of the Guard.
For more Royal tips on what to do in London, visit http://www.visitlondon.com
Notes to Editors
* Visit London – These figures are based on the average leisure visitor spend figure which is approx - £67 per head, per day.
The economic benefit figure is based on the at least 600,000 visitors coming to London and spending the average amount.
Contact