Business trips to the capital up despite tough economic climate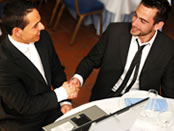 The number of business visitors to London in the first three months of 2010 grew by 5% over the same period last year. This is the first quarterly rise since the second quarter of 2007. Meanwhile, spending by people on business trips leapt by 21%, up to almost £500m. These strong figures, published by the International Passenger Survey, come despite difficult economic conditions.
The survey also found that overall visitor numbers to London in the first quarter fell by just 1% from the same period in 2009. This compares with a fall of 5% nationally. This drop in numbers is partly a result of severe weather conditions during the quarter that led to travel problems into and out of the UK.
Sally Chatterjee, CEO, Visit London said: 'London continues to be a focal point for global business, even in the face of challenging economic conditions. The jump in spending by business visitors is a reflection not just of returning confidence but also of the unrivalled range of restaurants and attractions on offer in the capital.'
The US brought in the most business passengers. Numbers were up 10% and expenditure by 30%. Numbers from France were up 33%, Spain 57% and Germany 13%.
In terms of holiday visitors, France brought in the most people. German numbers spiked by 16%, while the number of Irish visitors climbed by almost a quarter.
Overall visitor numbers for the quarter were 2.96 million.
Notes to Editors
Contact