August delivers boost to London attractions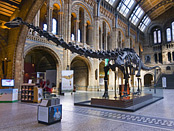 London attractions experienced a boost in August as the number of visitors during the month increased by 7.5% over the same period in 2009.
The Visit London Attraction Monitor, which samples 34 attractions both free and paid, revealed the growth, which has followed on from solid performances in the months prior, with gains of 6.3% in June, and 3.4% in July.

The marked rise over the three months has resulted in an overall increase during the last quarter of 5.7% ahead of 2009 figures, the highest three–monthly rise since November 2009.
Commenting on the positive figures, Sally Chatterjee, CEO, Visit London said, 'The latest figures from the Attraction Monitor illustrate how the diversity of London's attractions and the capital's ability to reinvent itself continues to attract visitors year on year. The positive trend of the last two quarters stands us in good stead as we look forward to the coming months.'
London's free attractions reaped the benefits of the strong month, with attendances nearly 13% higher than in 2009, while smaller attractions continued to deliver characteristically impressive performances, with the sector showing a dramatic 24% increase over 2009 figures – their highest increase yet.
The overall attendances to London attractions during August can be seen as increasingly impressive in the context of a cool month which saw heavier than average rainfall.
The quarter three figures demonstrate the continuation of a positive trend which begun in quarter two, which reported growth in attraction attendances following a slow start to the year.
Notes to Editors
The research is based on a sample of 35 attractions: Churchill Museum & Cabinet Rooms, British Museum, Geffrye Museum , Guildhall Art Gallery, Hampton Court Palace, HMS Belfast, Imperial War Museum London, Kensington Palace, Kew Gardens, London Dungeon, London Eye, Madame Tussauds, Museum in Docklands, Museum of Freemasonry, Museum of London, World Rugby Museum, National Army Museum, National Gallery, National Maritime Museum, National Portrait Gallery, Old Royal Naval College, Queen's House, RAF Museum, Royal Observatory, Greenwich, Science Museum, Shakespeare's Globe Exhibition & Tours, St Pauls Cathedral, Tower Bridge, Tower of London, V&A Blythe House, V&A Museum, V&A Museum of Childhood, Wellington Arch, Wimbledon Lawn Tennis Museum
Please note that these figures are based on the survey and therefore represent the total attendance to the sample 35 attractions surveyed.  They do not represent the total actual attendance in all London attractions.
*Small attractions are defined as those receiving fewer than 250,000 visitors per year. Large attractions are defined as those receiving more than 250,000 per year.
Contact