2009 tourism figures reveal first signs of recovery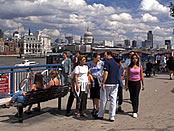 Provisional figures from the International Passenger Survey (IPS) reveal that overseas leisure visitors to the capital rose 7% in 2009 to around 7million with an increase in spend of 24% to nearly £4billion.
Many of London's top inbound leisure markets saw a rise in year on year figures including the USA, which saw its first growth in 2 years, up +7%, Germany (up 34%), Spain (up 27%) and France (up 19%). The increases indicate positive signs that holiday visits from overseas markets held steady during the global economic downturn and that London tourism has benefited from the weak sterling.
In total, London welcomed just over 14 million international visitors in 2009, which is a year on year drop of just over 4%, mainly due to a decline in global business travel, however, despite the decline in visits, overall spend in London rose by 3% to £8billion.
The world financial crisis has impacted on different areas of travel into London including business tourism which saw an overall drop of 19% in line with other cities around the world while visits to friends and relatives, affected by changes in migrant working populations especially from Eastern Europe, dropped by 13%.
Commenting on the IPS figures, Visit London CEO Sally Chatterjee said,
'2009 was an incredibly tough year for the tourism industry in London but the provisional IPS figures reveal, for the first time, that there are signs of recovery. London has continued to outperform the rest of the UK and we believe it is crucial to continue with our proactive promotion of the capital.'
Referring to leisure visits from the US, Chatterjee continued,
'The USA is our biggest inbound market and we are delighted to see an increase in visitors for the first time in two years as well as an increase of spend of around 32%. As one of the first countries to enter the global recession, they are also the first to come out of it and we believe this is very significant for global tourism generally.'
Notes to Editors
These figures for are from the International Passenger Survey for 2009. Currently there are no economic impact figures from the recent flight disruptions.
Contact