Visitors to London attractions up by 8%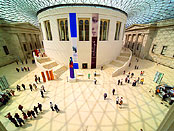 Visit London today announced that the number of people visiting museums, galleries and other attractions in the capital continued to rise, showing an increase of 8.4% in June compared to the same month last year.
The total number of visitors for the three months from April to June 2009 also showed an increase, up 12.8% compared to the same period in 2008.  The boost in visitor figures can be attributed to the continuation of the warm weather as well as a steady rise in European visitors flocking to the capital to take advantage of the weak pound. 
During this period, paid attractions experienced the biggest increase with visits up by an impressive 14%, while visits to free attractions saw a 12% increase.
Sally Chatterjee, Interim CEO, Visit London welcomed the news, commenting:
"London is the world's most visited international city and the continued rise in numbers of visitors to London attractions indicates that our diverse range of attractions remains a major draw and that London is providing better value than ever for visitors to the capital."
The news comes as Visit London prepare for the second phase of the Only in London campaign, launched in April this year, which aims to promote the capital in the UK and overseas by celebrating the unique experiences that can be found in the city.  The campaign was supported by additional funding of approx £2million provided by the Mayor of London Boris Johnson, as part of his Economic Recovery Action Plan.

Notes to Editors
Contact