Visit London's new business look starts its journey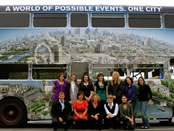 The Visit London business team today launched its new global business look and feel. The eye-catching globe graphic was unveiled this morning across an entire double-decker bus. The bus, which was being waved off from London's Paddington station, is part of the UK's 'Keep Britain Talking' campaign and will be making its way up to the Birmingham NEC to be part of Visit London's stand at the business trade show 'Event UK'.
The bus, however, is no usual double-decker. It is actually a state-of-the-art meeting space from the company Big Events Bus, and has been specially wrapped with Visit London's new business brand identity.
The new business graphic depicts a cinematic close-up of the globe which highlights London's skyline and famous cityscape. The brand line 'See the World, Visit London' is clearly positioned across the bus.
The new look and feel is set to entice more business groups and associations to London and comes less than a week after Visit London announced its crucial role in leading a new Business Tourism Group, backed by the Mayor's Office, which will be proactive in raising London's business profile.
The new business visuals is just another positive business story which follows on from last week's visit to New York by Mayor of London Boris Johnson. His visit was to highlight to business travellers and groups the benefit of doing business in London. The Mayor outlined his vision of making London the business capital of the world through inward investment and support for business tourism.
Tracy Halliwell, Director of Business Tourism, said: "The last week has been a significant one for London's business profile. There is a significant gear-change taking place in raising the profile of London's offer as a business destination. Visit London wholeheartedly supports the 'Keep Britain Talking' campaign and we will be showing that support as we travel all the way from London up to Birmingham today."
Halliwell added: "The new look is fantastic and we hope our journey on the Big Events Bus will highlight all the unique and unusual meeting spaces London has to offer."

Notes to Editors
Contact