Visit London launches 'Only in London' campaign for meetings industry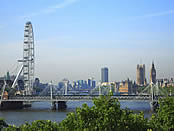 Visit London will be launching a dedicated 'Only in London' meetings, incentives, conferences and events industry communications campaign at this year's IMEX in Frankfurt, Germany (26- 28 May).
The 'Only in London' theme was developed following extensive research by Visit London into the city's key visitor markets. The research found that business visitors were looking for a unique, value for money offering that provided measurable return on investment.
Commenting on the campaign Barbara Jamison, Visit London's Sales Manager, says: "This is a great way of reminding the world and ourselves of the sheer range and depth of attractions, events and history that makes London unique."
The launch will be backed by an exclusive business list detailing what business visitors can 'only do in London'.
The capital's official visitor organisation will be joined by 23 partners on its stand F400 - all highlighting the 'Only in London' theme.
Visit London stand partners include Arsenal Football Club, Barbican, Business Design Centre, Chelsea Football Club, Central Hall, Westminster, ExCeL London, Franklyn Hotels and Resorts, Historic Royal Palaces, London Eastside, Mango, Millennium Gloucester Hotel and Conference Centre, Novotel London West, Premium UK/Spectra, Radisson Edwardian, Royal College of Physicians, The Goring, The Grove, The Landmark Hotel, The Marylebone Hotel, The Queen Elizabeth II Conference Centre, The Royal Lancaster Hotel, Wembley Stadium, Wyndham Grand London.
Wembley Stadium will be 'first timers' on the stand, whilst The Queen Elizabeth II Conference Centre will be promoting its joint venture with neighbouring conference venue Central Hall Westminster and ExCeL London will be highlighting its phase two expansion.
Additionally, Visit London will be profiling its new Accommodation and Fair Practice and Pricing Charters and making an announcement regarding the hosting of one the world's leading conferences for associations with in-house congress personnel in London.
With the London Olympic 2012 Games only three years away, David Hornby, Visit London's Commercial Director will be presenting a '2012 Download' update at a press conference on Tuesday 26th May at 16.00 in Symmetrie 4 at IMEX.
Commenting on Visit London's presence at IMEX, Barbara Jamison continues: "Year-on-year our presence at IMEX grows. We are delighted that our stand partners are committed to showcasing the 'Only in London' campaign which sums up what business visitors can expect from the city. In the current economic climate, London provides not only excellent value for money but also so much contrast, diversity and flexibility. It truly has something unique for everybody.
"IMEX is a major platform for Visit London and we aim to surpass the £52 million of potential business we achieved last year."

Notes to Editors
Contact