Visit London extends marketing campaign into Europe
Advertising will promote London's value for money offer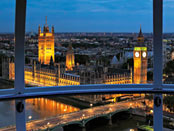 Visit London has launched a new £300k campaign in Spain, Italy and Germany running until the middle of February 2009. The campaign will promote London's value for money offering including the favourable exchange rates and the draw of the sales as well as a Ryanair lead-in fare of just €10.
This activity is part of a series of tactical marketing campaigns that Visit London is running across Europe until the end of March 2009. The campaign will feature the message 'Experience a world of value in London' and highlight the favourable exchange rate for visitors from Europe. 
The European activity is part of Visit London's four month international marketing campaign aimed at stimulating visits to the capital during the economic downturn. The campaign is being funded from the £750,000 public/private initiative announced by the Mayor of London, Boris Johnson, at the end of 2008.
Visit London's marketing initiatives are rolling out across the capital's key visitor markets including Britain, Europe and North America. The combined public and private funding will take the total amount spent on promoting the capital at home and abroad to £3.25m over the next four months – an amount that is expected to deliver £70m in economic benefit to the city.
Visit London's Interim CEO, Sally Chatterjee, said:
"2009 will be a challenging year for the tourism industry and it is crucial to maintain a presence in our key visitor markets. I'm delighted that our activity is rolling out simultaneously both at home and internationally promoting London's value for money offering and great experiences."
Mayor of London Boris Johnson said:
"There's never a bad time to visit London and our continental colleagues have a huge advantage at the moment.  Our top hotels, restaurants, shops and shows have always offered the highest quality - but anyone clutching Euros will find them more affordable than ever.   Don't hesitate - it's the place to be."
Lesley Kane, Head of Sales & Marketing Europe said:
"Ryanair is pleased to be working with Visit London to grow the number of visitors to London in 2009. In this economic downturn Ryanair's guaranteed lowest fare continues to attract millions of passengers to experience all that London has to offer. "
In the UK, the strapline 'Experience a world of value in London' will be used in a variety of media to communicate the message that London is the place to be over the next few months. Advertorials, as well as national and regional print, radio and online advertising will promote London to an audience whose combined spending from overnight stays alone was worth nearly £6bn to London's visitor economy last year.
US activity will kick off towards the end of January and is aimed at leisure visitors from North America. The print, radio and online promotions will feature Radisson Edwardian hotels and British Airways flight offers as well as highlighting the favourable exchange rates, range of attractions and value for money options available in the capital.
Visit London spends over £14m promoting the capital each year and further marketing activity throughout 2009 is also being developed.
Notes to Editors
Contact