Visit London brings 'Little Ben' into the spotlight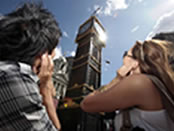 To celebrate the 150th anniversary of Big Ben's first chime, the famous clock-tower's lesser known brother – "Little Ben" - will be installed with "bongs" as loud as Big Ben itself.
The 30ft miniature replica of one of the world's most iconic landmarks is situated in the heart of Westminster near Victoria station. For one day only on Friday 10th July, Little Ben's new-found "mega-chime" will sound on the hour, every hour from 7am to 7pm. The event will be open to the public to come down and experience the once-in-a-lifetime chimes for themselves.
"Little Ben" is just one of many hidden treasures visitors can discover when they come to the capital. The replica was first erected in 1892, removed in 1964 and subsequently re-erected by Westminster Council in 1981 after receiving funding from a French oil company as a token of Franco-British friendship.
Visit London's Chief Executive Sally Chatterjee says:
"Perhaps one of London's best kept secrets, it's high time 'Little Ben' came out from the shadows and was given a voice. This unique event will highlight the abundance of hidden gems which makes London such a compelling city to visit."
This event is part of Visit London's "Only In London" campaign, which aims to highlight the truly unique experiences international and domestic visitors can enjoy when they come to the capital.
This event will take place a day before Big Ben, as he is affectionately referred to, celebrates the 150th anniversary of the first sounding of his bongs. The construction of the clock tower was completed in 1859 and the clock first started on 31st May 1859. This was closely followed by the first sound of Big Ben striking the hour on 11th July 1859.
Other hidden gems in the capital include the London Stone, a protected piece of limestone situated by Cannon Street, once thought to be the guardian of the city, and the point from which all distances from London were measured. Another treasure is Cleopatra's Needle, a gift given to the UK from Egypt to recognise Nelson's victory over the French fleet at the Battle of the Nile in 1798. The Christmas Tree which stands proud in Trafalgar Square is a gift from Norway in gratitude for Britain's support during World War II - a fact few people know. 
Notes to Editors
Contact