Triathlon comes to town as Hyde Park gets a test run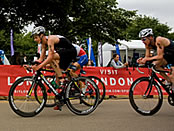 Helen Jenkins, the reigning world champion from Britain, will be amongst a starting line-up of the world's top triathletes when the Dextro Energy Triathlon ITU World Championships Series comes to London's Hyde Park on August 15 and 16th.
London will be the sixth of seven stop-overs for the Series which began 10 days ago in Korea and finishes with the Grand Final in Australia in September. Each event features an elite men's and women's race but also an Age Group mass participation race. The event in London also hosts youth, junior and paratriathlon races and an expo - an international trade fair.
Places in the Age Group race are expected to sell out quickly. Entries are limited to just 2,100 and participants can register for the Age Group race at http://www.triathlon-wcs-london.org/
where entries go on sale today.
President of the International Triathlon Union (ITU) Marisol Casado, said "As we head towards the London Olympic Games in 2012, it is a sign of triathlon's growing stature and significance that we look forward to a race in Hyde Park as part of the Dextro Energy Triathlon ITU World Championship Series. I am sure that I speak on behalf of all of the athletes, coaches and National Federations when I say that the triathlon family is very excited to be coming to one of the world's greatest cities with the opportunity to race around such an iconic venue. My thanks go out to British Triathlon, London and our partners, Upsolut and Sportfive for working so hard to make this special event happen."
Dr Sarah Springman OBE, President of British Triathlon said of the event that has support from UK Sport's National Lottery-funded Major Events Programme: "British Triathlon is delighted to have been chosen by the International Triathlon Union to host one of the prestigious Dextro Energy World Championship Series triathlons in London's Hyde Park as we look towards 2012. Offering exciting, spectator and media-friendly international events of the highest quality, so that our athletes can benefit while raising the profile of triathlon in the centre of London. Incorporating paratriathlon, youth and age group events confirm the inclusivity of our sport, which is widely cited as being the fastest growing in the country".
Dan Ritterband, Director of Marketing, Office of the Mayor of London, said: "It is fantastic that London will be hosting another world class sporting event at one of its iconic landmarks this summer. Londoners and visitors will get a chance, to not only see the world's best triathletes in action, but to compete themselves at the venue for the 2012 Games. Whether competing or spectating, this event will be fantastic for everyone."

Event organisers and owners Upsolut Sports and the ITU collaborated to create this new series and are working with the BTF on the London leg. Athletes can earn points at each leg with the person with the most points at the end of the series being crowned World Champion. In London the Age Group race participants will also be encouraged to raise funds for Marie Curie Cancer Care, the Official Charity Partner.
World champion Helen Jenkins said: "I'm very excited about the prospect of racing in London. It will be good to have a home crowd to support us and we will get an early look at Hyde Park which will host the Olympic triathlon in 2012".
The event will be televised live by BBC TV in the UK and by other networks around the world. 130 athletes from all the continents and up to 40 nations are expected to take part and early indications are that the reigning men's Olympic champion, Jan Frodeno of Germany, will be amongst the starters. Australia's Emma Snowsill andNew Zealand's Bevan Docherty lead the series with 800 points apiece after the first leg in Korea. Tim Don was Britain's top placed finisher with 9th place.
The London course for the elite athletes will include a 1500m swim, a 40km cycle and a 10km run. There will be a $150,000 prize fund.

Notes to Editors
Upsolut
Upsolut Sports, promoters and organisers of the Dextro Energy Triathlon ITU World Championship London is headquartered in Hamburg and is the leading organiser of endurance sports events in Germany. Upsolut specialises in the development, hosting and organisation of professional as well as amateur endurance events, i.e. cycling and triathlon. The company organises some of the world's largest events of its kind including the Vattenfall Cyclassics, Skoda Velothon Berlin and the Dextro Energy Triathlon in Hamburg which in total host more than 45,000 participants. For more information visit: http://www.upsolut.de
ITU
The International Triathlon Union is the world governing body for the Olympic sport of Triathlon and all related MultiSport disciplines: Duathlon, Aquathlon and Winter Triathlon. ITU was founded in 1989 at the first ITU Congress in Avignon, France and has maintained its headquarters in Vancouver, Canada since then. It now has over 120 affiliated National Federations around the world and is the youngest International
Federation in the Olympics. Triathlon was awarded Olympic status in 1994. ITU is proudly committed to supporting the development of the sport worldwide through strong relationships with Continental and National Federations, working with its partners to offer a balanced Sport Development programme from grassroots to a high-performance level. For more information, visit: http://www.triathlon.org
British Triathlon
British Triathlon is the National Governing Body for Triathlon, Duathlon and
Aquathlon in Great Britain, responsible for leading growth and performance of the
sport and overarching British matters including relationships with the International
Federation, the International Triathlon Union (ITU). Triathlon is a sport that is
inclusive, empowering and life changing. A dynamic, attractive and exciting sport
from youth to senior and Olympic level. Triathlon also provides opportunities for
paratriathletes and age group participation. British Triathlon aims to promote
excellence in our sport, and create opportunities for everyone to achieve their
personal triathlon challenges. For more information visit: http://www.britishtriathlon.org/
UK Sport
The Dextro Energy Triathlon World Championship London elite races have been part funded by UK Sport's National Lottery-funded World Class Events Programme, which working in partnership with national governing bodies, cities & regions and home country agencies aims to secure elite sporting events of strategic importance that deliver a range of lasting benefits to the UK. These include economic, social and cultural benefits as well as improving sporting performance by home athletes, encouraging participation and leaving a legacy of facilities and development initiatives. For more information, visit:
http://www.uksport.gov.uk/pages/world_class_events/
Marie Curie Cancer Care
Marie Curie Cancer Care provides free nursing care to patients with terminal cancer and other illnesses in their own homes. Our network of Marie Curie Nurses work through the night and day, 365 days a year and care for more than 27,000 patients annually. All Money raised will allow more Marie Curie Nurses to provide free care for terminally ill people in their own homes. To get help from the Marie Curie Nursing Service, talk to your GP, district nurse or discharge nurse. For more information visitwww.mariecurie.org.uk

Contact