Tesla Motors Electrifies London
Please note: In April 2011 Think London merged with Visit London and Study London to become London & Partners. These archive press releases are here for information only.
Tesla Motors, the electric vehicle manufacturer, has opened its first European store in London with the help of Think London, the foreign direct investment agency for London.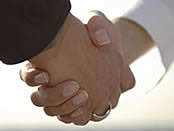 The California-based company and makers of the Roadster, a high-performance electric sports car, has established the base of its European operations in Knightsbridge, with London's green credentials playing a significant role in its decision.
Additionally, the UK government has committed to reducing emissions and has introduced incentives for the owners of electric vehicles including tax exemption, free parking, no congestion charge and low running costs. These incentives will help to stimulate demand within this sector.
Don Cochrane, UK Sales and Marketing Director of Tesla, said: "London has always been a lead market for new products and innovations. Thanks to the Mayor of London's commitment and forward planning of logistics and infrastructure it was the obvious choice for us to launch our first European store."
Notes to Editors
Since 2000, Think London has assisted nearly 900 companies from North America expand their operations to London including Delta Airways, Amgen, Google, Raytheon, Wells Fargo, LinkedIn, Microsoft, MySpace and Facebook.
Contact
Please contact the London & Partners PR team.