Spanish Companies Think London
Please note: In April 2011 Think London merged with Visit London and Study London to become London & Partners. These archive press releases are here for information only.
Investment from Spain expected to exceed last year's targets despite the recession.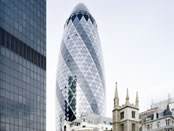 The global downturn has done little to stop an increasing number of Spanish businesses from using London as a base for growth and expansion. The latest data from Think London, the foreign direct investment agency for London, released with the launch of Think London's Spanish roadshow, reveals the number of Spanish companies expanding or setting up their operations in the UK's capital during the current financial year is expected to outstrip the number of projects reported for the whole of 08/09.
Over the past decade or so, Think London has assisted nearly 50 Spanish companies including household names Ferrovial and Worldwide Retail Store, to establish or expand their operations to London, and Think London has worked closely with industry leaders across a range of sectors to facilitate this growth.
More recently, Think London has assisted Spanish insurance company  Mapfre (Desigual, Telvent, Actualise and Watergun) in establishing a London base. Gregorio Santos of Mapfre said: "We have been in London for several years pending a business opportunity interesting enough to invest in. During the last year, thanks to a more proactive approach in the search for business opprtunities, we have encountered some very interesting networking, mainly facilitated by Think London. Our headquarters in London is an essential base for development of the company both in the UK and other countries because London is a real hub in the insurance business."
Anglo-Spanish commerce has long since enjoyed strong ties, with Spanish businesses bringing their own unique formula of success to UK shores. Think London has witnessed a trend in increased investment flow this from sectors such as ICT, Retail and Hospitality.
Notes to Editors
About Think London's Spanish Roadshow:
Seville 26/11/2009 Business opportunities for Spanish companies before & after 2012
Madrid 01/12/2009 Digital London "Digital UK / Digital London"
Valencia 02/12/2009 Business opportunities for Spanish companies before & after 2012
Valencia 03/12/2009 Environmental Breakfast
Contact
Please contact the London & Partners PR team.