Mayor of London and Mayor of New York announce tourism agreement to boost visits between cities
Two-Year Agreement Includes Advertising Exchange, Sharing of Best Practices and Assistance on Publicity Events.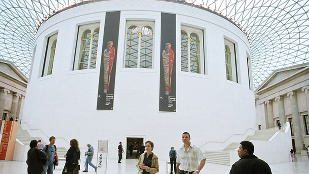 Mayor of London Boris Johnson and New York Mayor Michael R. Bloomberg today announced a two-year tourism agreement between New York City and London to boost travel between the two cities.
The cities will provide each other with outdoor media advertising space and NYC & Company and Visit London, their respective tourism arms, will share best practices as a way to maximize travel between the two destinations and will assist each other with at least one publicity event in each city.
The Mayors made the announcement during an international conference at Columbia University where the two Mayors met to discuss their financial sectors, the diversification of their economies, building and maintaining their capital plants and expanding housing affordability. Visit London CEO Sally Chatteree and NYC & Company CEO George Fertitta, and Columbia University President Lee Bollinger joined the Mayors for the announcement.
Mayor Boris Johnson said: 'London and New York City share many similarities, including a strong sense of optimism and determination, along with a great appreciation for diversity and innovation. Our common cultural ties, not least absolute dedication to providing world-class services and experiences for both residents and visitors, make the two cities exceptionally well poised to combine knowledge as well as resources to impact the economies and future of the cities.'
Mayor Bloomberg said: 'Now more than ever as we work to limit the effects of the ongoing global financial downturn it is important to find new ways to grow a diverse array of economic sectors, and tourism is among the most important for New York City. New York City and London, both significant sources of travel for each other's market, can learn a great deal from one other and we will work together to highlight each other's strengths and remain leading global cities.'
Sally Chatterjee said: 'As well as being large sources of overseas travel for each market, New York City and London are also big supporters of each other. We look forward to working with NYC & Company and see both our organizations continuing to strive for best practice in our role as world-leading destinations. This is an exciting first step in what we expect to be a very fruitful partnership.'
George Fertitta said: 'Tourism will undoubtedly be one of the industries that helps aid our local economy through the recovery of the recession and we are working harder than ever to promote it. Through this agreement between NYC & Company and Visit London we are declaring not only a commitment to driving travel between London and NYC but also a vow of the continued friendship between the two cities.'
Under the two-year tourism agreement New York City will exchange 71 bus shelters with London that will run in New York City for 4 weeks per year. In return, London will exchange 250 posters for four weeks on the London Underground system twice per year.
The yearly value of each city's media is $178,500. The agreement will be a two-year deal, $357,000 to London and $357,000 back to NYC from London. Also as part of the agreement, NYC & Company and Visit London have agreed to share best practices in their endeavours to boost tourism and to assist each other with at least one publicity event in their respective cities.
Americans made almost 2 million visits to London last year and America remains London's number one market for international visitors. Similarly, last year New York City welcomed a record 1,328,000 visitors from the UK, surpassing the record 1,237,000 visitors in 2007, making it the City's number one source of international visitors. New York City is the number one destination for UK travellers to the US.
The Mayor of London is in New York City to spearhead a series of plans promoting leisure and business travel to the British capital from the United States. With the value of the dollar against the British pound strongly in favour of trips by American visitors, the Mayor is driving home the message that there's never been a better time to come to London.
Today Visit London also launched its £1millon 'Only in London' marketing campaign, which runs in the US from 15 September to 19 November. The promotion will celebrate the sights, sounds and experiences that are unique to the British capital's history, heritage and culture. The campaign - partnered by Radisson Edwardian hotels and British Airways - will run nationally in the United States (New York, Boston, Chicago, Philadelphia, Washington, Miami, Los Angeles, San Francisco) as well as Canada (Toronto).
The promotion will highlight value deals as well the chance to win a once-in-a-lifetime trip to spend New Year's Eve in London including a New Year's Eve dinner on the Thames through Bateaux London, a VIP Pass to Hyde Park Winter Wonderland, a champagne flight on the London Eye, a private visit to the Royal Academy of Arts, a day trip on Eurostar and a VIP tour of Wembley Stadium.
The Mayor of London will also meet today with competition winners boarding a British Airways (BA) flight to London at JFK Airport as part of an initiative to stimulate business travel from the United States.
The BA "Face to Face" initiative follows research by Harvard Business School which shows that while business travel budgets have tightened during the economic downturn, global business executives say face-to-face meetings remain a crucial part of selling new business and building partnerships.
Notes to Editors
Contact