London Walks away with gold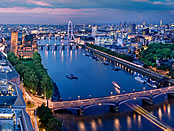 The UK's tourism industry celebrated last night as the best of the countries visitor attractions were recognised at The Enjoy England Awards for Excellence 2009. London had a successful evening scooping up the Gold Award in the Best Tourism Experience for the London Walks (http://www.londonwalks.com).
London Walks is one of the oldest urban walking companies in the world and offer a year-round service. The company offers more than 400 different walking tours fronted by 70 world-class guides, including several renowned actors. New themed walks recently added include walks on Gandhi's London and a mouth-watering Foodies' West End walk.
The award's judges described the walks as 'consistently providing a fun, green, entertaining and value for money experience all year round.'
London also received a further three silver awards which were awarded to the National Theatre for Best Access for all Tourism, ExCeL London took silver in the Business Tourism category and the Best Large Visitor Attraction (Over 100,000 visitors) silver award was given to the Science Museum.
The annual awards, which are organised by VisitBritain, celebrate the best of British tourism and are in their twentieth year.
Visit London Interim Chief Executive, Sally Chatterjee, said:
"We are delighted that such a diverse range of London attractions were successful in this year's awards. London prides itself on offering a sheer range and depth of attractions, events and history in our city for both business and leisure visitors. We are delighted for all our partners who won the awards last night and we send our congratulations to all the rest who took part."

Notes to Editors
Contact