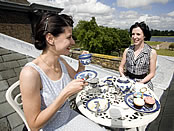 To celebrate the quintessentially British tradition of high tea and to highlight the many unique places you can enjoy a tasty cuppa, Visit London is taking 'High Tea' quite literally across the capital.
On Wednesday 20th May, 'High Tea' will see people enjoying a cup of tea on top of some of the city's most iconic buildings including; The Roundhouse; Monument; IPC Building; Kensington Palace and Westminster Abbey.
This one-day celebration of tea drinking will encourage Londoners and visitors to the capital to enjoy the simple pleasure of having a brew - whether it's high tea at a top London hotel, sipping from a flask of tea in the park, or simply treating their colleagues to a round of tea at their desks.
'High Tea' is part of Visit London's ongoing campaign 'Only In London' which aims to showcase the truly unique experiences the city has to offer, both to domestic and international visitors.
Mayor of London Boris Johnson said,
'There's nothing like the great British cuppa and the tradition of taking afternoon tea – especially high tea - has to be one of the greatest pleasures in life. If you want somewhere to relax after a busy day sightseeing or shopping, or a wonderful place to go for a family treat, only in London will you get the most memorable experience of the national brew."
Visit London's Chief Executive Sally Chatterjee commented,
"'High Tea' is the perfect opportunity to remind ourselves of all the wonderful traditions that have enriched this country, such as afternoon tea. Our capital in particular, is internationally renowned as a heritage hotspot that thrives on traditions past and present and is commonly acknowledged as home to the world's best tea houses. The 'Only In London' campaign will highlight other similar unique experiences on offer to visitors here and will keep London a frontrunner in the tourism market."
Visit London's 'Only In London' campaign was launched by the Mayor of London Boris Johnson at the end of April and will run for three months, promoting the unique and diverse experiences that our capital city has to offer.
The campaign is funded by the London Development Agency and four central London boroughs - Camden, City of London, Kensington & Chelsea and Westminster - as well as the commercial sector. The campaign is expected to deliver £60m in economic benefit to the city.
Notes to Editors
Contact