London stages athlete's most daring jump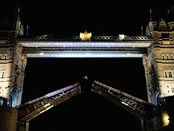 In the early hours of this morning, London played host to one of the world's most memorable motorcycle jumps as Freestyle motocross star and Red Bull X-Fighters rider Robbie Maddison made a death-defying jump across the raised bascule arms of London's iconic Tower Bridge. The jump emphasises London's position as a city which is able to support and host unique and one-off global events.

A documentary of the jump can be seen tonight on Channel 5 at 19:30 – or viewed on http://www.visitlondon.com
Maddison, who holds the Guinness World Record for the longest motorcycle jump, made the spectacular jump under the cloak of darkness in a closely guarded and secure jump area stretching across the 262 meter bridge. The jump is a pre-cursor for the Red Bull X-Fighters event which will attract around 17,000 visitors to London from across the UK and internationally, when it takes place in London's Battersea Power Station on the 22nd August 2009.
Sally Chatterjee, Interim CEO of Visit London said:
"This spectacular stunt highlights London as an ever changing city which is constantly animated with unique and exciting content - content which will encourage both first time and repeat visitors to our city."
Katie Holt, Event manager for Red Bull added: "We are delighted to have used London and the iconic Tower Bridge for Robbie's amazing jump. London is an ideal backdrop to stage a spectacular feat like this and we look forward to bringing the Red Bull X-Fighters event to London at the end of August."
As part of the jump, Visit London's Events for London and Event Solutions team worked closely with the events organisers Red Bull to enable the top secret event to take place.
Zanine Adams Head of Event Solutions team at Visit London said "London's vision is to be the world's most exciting major events destination. Visit London has supported Red Bull in making this athletic feat possible so it can further highlight the city's fantastic offer. We're delighted Robbie was able to jump the bridge and we hope his stunt will highlight the role that both Event Solutions and the Events for London play within opening up and attracting events to the capital."
The motocross bike that Robbie rode into the history books is to be donated to a special experience in the Tower Bridge Exhibition. Robbie Maddison's Bridge Jump exhibit will be on show later in July. The display will include the bike and an array of Robbie's kit, plus exclusive footage of the jump, as well as Robbie's thoughts on why he chose Tower Bridge as his latest conquest.
The Role of Events for London and Events Solution
The Events for London (EfL) team, which was set up in late 2007 within Visit London is responsible for attracting, growing and developing major events into the capital. The EfL team has already worked closely with Red Bull in the past, supporting both the Red Bull Air Race and the upcoming Red Bull X-Fighters.
Visit London's Event Solutions team who has also worked with Red Bull in the past, worked closely with the relevant city stakeholders and city associations to ensure that Red Bull and others businesses coming in to London as able to navigate and work safely with London venues, spaces and suppliers. The events solutions team offers this as a free and impartial consultancy service.

Notes to Editors
Contact