London cheaper than New York for first time since 2002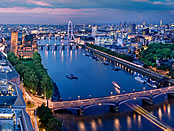 It was announced today that London is officially cheaper than New York to inhabit and visit for the first time since 2002. The findings were published in the latest Worldwide Cost of Living, Economist Intelligence Unit survey.
London, which was ranked third this time last year, has slid dramatically in line with a weak sterling to joint 27th position, below New York (23rd position) and many other European cities.
Worldwide Cost of Living, the bi-annual Economist Intelligence Unit survey, compares prices and products in 140 cities around the world. Its purpose is to provide companies with an unbiased and independent guide from which allowances can be calculated for executives and their families being sent overseas. The survey takes in to account a number of different measurement factors including rental prices, hotel costs, theatre trips, exhibitions and even everyday costs such as buying a loaf of bread.
Weakening exchange rates have driven a substantial downward movement in the relative cost of living across much of Western Europe, including the UK and in particular London.
Ken Kelling, Director of Communications for Visit London said:
"There has never been a better time to visit London. It is now 25 per cent cheaper for an American to come to London than it would have been last year."
Visit London's Interim CEO, Sally Chatterjee, added, "With the pound on a par with the euro and the dollar being so much stronger than last year there has never been a better time to consider London. Venues and Hotels are also looking to support our lead in this area by providing extremely competitive rates to go even further than the exchange rate benefits. The capital is a premium brand and has a wealth of unique and unusual venues, green spaces and real value for money programmes to offer organisers globally and locally in near Europe."

Notes to Editors
Contact