London: Best Business Location in Europe - 2009
Please note: In April 2011 Think London merged with Visit London and Study London to become London & Partners. These archive press releases are here for information only.
The UK's capital celebrates two decades at the top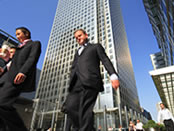 The latest European Cities Monitor 2009 has ranked London for the 20th consecutive year as the number one European city in which to locate a business.
Extending its lead on nearest rival Paris, London came first in all three major rating criteria; access to markets, talent supply and connectivity (digital and physical).
The Mayor of London, Boris Johnson, said: "Yet again London leads the way as the number one city for business. All these recent surveys make it crystal clear that the world's attention is focussed on our capital, offering it an extremely bright future. We are working tirelessly to promote London as the top business and tourist destination and will continue to set the benchmark. We are pushing ahead with major infrastructure improvements, like Crossrail and the Olympics, and delivering programmes to increase the skills of our workforce so that companies investing in London have a pool of talent ready to employ. Therefore I urge all international and European businesses who want a base in the world's best city for business to get in touch."
London, Paris and Frankfurt remain the top three European locations sitting comfortably ahead of all other challengers. Of these three, the UK's capital was also rated as the most improved. It ranked second for the availability of property, with a 33% improvement in its score for property value. It also jumped from fifth to second as the city that is doing the most to improve itself.
The European Cities Monitor (ECM) is the annual location survey of Europe's leading companies carried out by global real estate consultant Cushman & Wakefield. The survey, undertaken by market research firm TNS, is based on interviews with senior managers and board directors in charge of location of 500 top European companies. It looks at factors regarded as important by companies when deciding where to locate, and then compares the performance of 34 of Europe's leading business cities on each factor.
Also released today, the IBM 2009 Global Location Trends Report, which is based on data that records investment projects around the world, reveals that London has maintained its position as the world's top destination for investment.
Contact
Please contact the London & Partners PR team.