Leisure Visitors provide boost to London's tourism
Recent research from Visit London's Attraction Monitor, Hotel Development Monitor and recent International Passenger Survey figures reveal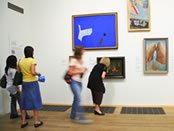 Despite this year's difficult financial climate, Visit London reveals that leisure visitors to the capital are determined not to cut back on their holiday spend.
London's museums, galleries and attractions felt the benefits from the buoyant leisure sector and witnessed an increase in visitor numbers of over 6% in September 2009 compared with the same period in 2008*. The main boost in September attendances came from paid-for attractions, where visits increased by 10.7%.
The Provisional International Passenger Survey (IPS) figures for Q2 also indicate that expenditure by all visitors was up by £2.1 billion, an increase of 3.1% on the previous year. It means that average visitor spend increased from £540 to £574. Travel expenditure among leisure visitors increased 44% in Q2 compared to the same period a year ago indicating that sterling's depreciation has established London as a top-value destination.
The number of holiday visitors actually increased 6% in the quarter, continuing an upwards trend established in Q1. This means that holiday visitors now comprise 52% of the market (Q2 2008 47%).
Elsewhere, data from Visit London's Hotel Development Monitor suggests that the accommodation sector is proving more resilient than initially thought.
The weaker pound allied to London's world class status have combined to attract a greater proportion of leisure traffic to the Capital. As a result, demand for accommodation has effectively replaced the reduction in business-related room demand.
The report suggests that some of the gloomy forecasts have proved ill-founded. While some industry analysts were anticipating RevPar reductions as high as 40% for 2009, the resilience in the market has led to a considerably more modest reduction in the order of 9%.
Sally Chatterjee, Visit London Interim CEO commented
"This has been a challenging year but it is really encouraging to see that while times are tough, visitors do not want to hold back when it comes to their leisure time. London is a great value destination and visitors can enjoy all the free attractions on offer as well as paying to enjoy the capital's incredible range of paid for attractions, hotels and restaurants."
Notes to Editors
*According to the Visit London Attraction Monitor for September
Contact