Japanese Companies Continue to Grow in London Despite Downturn
Please note: In April 2011 Think London merged with Visit London and Study London to become London & Partners. These archive press releases are here for information only.
Pipeline of Japanese investment shows increased buoyancy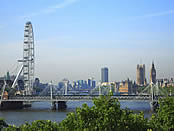 A growing number of Japanese businesses are choosing London as a base from which to grow their operations, in spite of the economic downturn.
Data from Think London, the foreign direct investment agency for London, shows that the number of companies expanding or setting up their operations in the UK's capital during the first six months of the current financial year already outstrips the 12 projects reported for the whole of 08/09.
Japan represents the largest source of jobs created by Asian direct investment in London, accounting for a total of more than 2,800 jobs over the past five years. In assisting 100 Japanese companies, including Takeda, KDDI, Sony Computer Entertainment Europe, Mitsui & Co. and Ricoh, to establish or expand their operations in London over the past 14 years, Think London has worked closely with industry leaders across a range of sectors to facilitate this growth.
Most recently, Think London assisted Canon Europe in establishing their new European headquarters in London, which officially opens today – a move that Ryoichi Bamba, President and CEO of Canon Europe, referred to as "bringing us closer to key players in the global business community".
The Mayor of London, Boris Johnson, said: "I commend Canon Europe on their taste in choosing our great capital city to establish their HQ. It demonstrates that despite the current global turmoil, London is still the premier business city of choice, thanks to our stability and innovation, a highly skilled work force, a tradition of openness, and unrivalled access to western markets. London is also an exceptional, exciting and diverse city. Its people come from every continent, country and represent every culture in the world, so from wherever you are from you will never feel far from home.
"That's why figures show such continued and strong interest in investing in this city, and I say to global companies looking to follow Canon, we'll give you a big welcome and do all we can to make you immediately successful."
London was also recently successful in securing the expansion of leading Japanese online and mobile advertising company Adways – a project which had been hotly contested by the US, but which London was triumphant in clinching due to the capital's booming online advertising market.
Notes to Editors
About Canon's office opening:
The new Canon EMEA headquarters in London sees the consolidation of sales and marketing functions and key departments moving to London from Canon Europa N.V. in Amstelveen.
About the Mayor of London:
Created in 2000, the role of the Mayor of London is to promote economic development and wealth creation, social development, and the improvement of the environment, in the UK's capital city. The Mayor chairs several boards that deliver services for London including the transport and police authorities and sets out plans and policies covering: transport, planning and development, housing, economic development, regeneration culture, health and the environment.
Contact
Please contact the London & Partners PR team.