Indian Investment Flow Continues Into London Despite Downturn
Please note: In April 2011 Think London merged with Visit London and Study London to become London & Partners. These archive press releases are here for information only.
Indian investors are continuing to choose London, according to new data from Think London, the foreign direct investment agency for the UK's capital.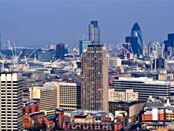 Results for the financial year to date confirm that 14 Indian companies have set up or expanded their operations in London. Encouragingly the outlook for the full year suggests that the growth seen in 2008/09 will be sustained through this year.
India is the second largest investor in London and projects from the country represent almost 10% of all of Think London's successful investments to date (145 out of 1512). Indian companies assisted by Think London have contributed over 4000 jobs worth £461 million to the London economy, making it the second highest source of jobs after the US. Over the past 14 years, Think London has assisted companies including Haldiram, ICICI Bank and Kingfisher Airlines highlighting London's appeal across a broad range of sectors.
More recently, companies including Wipro and IL&FS have chosen London for their European headquarters, focusing on the capital being the best city in which to globalise given its unrivalled access to markets.
At a reception to launch the research and celebrate London's strong links to the Indian business community that was hosted by leading City law firm Berwin Leighton Paisner, the Mayor of London, Boris Johnson, said: "The strength of the Indian community in London and their commitment to this city never fails to impress me. Indian owned businesses in the capital generate over £14.4 billion and represent five per cent of London's economy. One of my most important roles as Mayor is to make sure that London remains the number one city to do business in. With the continued support of Indian owned businesses we can make sure that London is, and continues to be, the most enjoyed and competitive city in the world."
Anil Kalra, Chief Executive Office at IL&FS Global Financial Services: "The current economic climate has created a unique opportunity for us; with unrivalled access to markets, lower commercial property costs and an impressive talent pool that is now more readily available, London was the best choice for us to locate our European Headquarters. London continues to be a leading business destination for Indian businesses wanting to globalise, and we are looking forward to expanding our operations further in the UK's capital over the coming years."
Harold Paisner, Senior Partner at Berwin Leighton Paisner and a Board Member of Think London, said: "We are very committed to building ever closer ties between London and Indian business leaders, and we are delighted to be supporting Think London's work in this area. As a firm, we have very strong links with the sub-continent and act for numerous major Indian clients, including TCS/Diligenta, DQ Entertainment, Kingfisher Airlines and L&T Infotech."
Notes to Editors
About the Mayor of London:
Created in 2000, the role of the Mayor of London is to promote economic development and wealth creation, social development, and the improvement of the environment, in the UK's capital city. The Mayor chairs several boards that deliver services for London including the transport and police authorities and sets out plans and policies covering: transport, planning and development, housing, economic development, regeneration culture, health and the environment.
About Berwin Leighton Paisner LLP:
Berwin Leighton Paisner LLP is a premier, full service law firm with over 720 lawyers, including 190 partners. We have offices in London, Abu Dhabi, Brussels, Moscow, Paris and Singapore. We also have flexible and pro-actively managed relationships with more than 100 preferred firms in over 65 countries around the world. Clients include FTSE 100 companies and financial institutions, major multinationals, the public sector, entrepreneurial private businesses and individuals. BLP has been named UK Law Firm of the Year 2008 at the Chambers Europe Awards for Excellence and has previously been awarded the title of Law Firm of the Year by both Chambers and The Lawyer. In both 2007 & 2008 the firm was ranked as the UK's Top Legal Employer by Sweet & Maxwell and included as one of the Sunday Times Best 100 Companies to Work For in 2008 and 2009.
Contact
Please contact the London & Partners PR team.