Global campaign aims to capture opportunity as London tourism holds steady in 2008
Visit London's "Only in London" campaign begins today. The campaign breaks as new tourism figures reveal that last year (2008) London welcomed just over 26 million visitors spending £10.5bn - an increase of 2% and 1% respectively on 2007.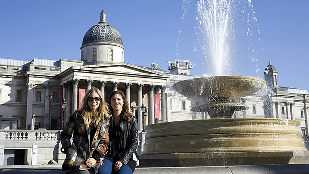 Numbers were boosted by an 11.5% annual increase in visitors from other parts of the UK. Annual spending by domestic visitors also increased by +7% to £2.4bn.

The total number of international visitors to London fell by -3.6% to 14.8 million, with a steep decline in some markets in the last quarter due to the economic downturn. However, if excluding business trips which were adversely affected by the recession, visits and spending by leisure visitors remained steady (both up by +1%) thanks to favourable exchange rates.

London's key European markets showed mixed results. Spending by four of London's top six European markets was strong with Italy (+33%), France (+9%), Germany (+8%) and the Netherlands (+5%) showing growth. Spending from Irish visitors remained flat whilst Spanish visitors declined in both volume (-7%) and value (-5%) due to the country's own recession.

In London's long-haul markets, visits and spending from the USA - London's number one international market – were down by -18% and -15% respectively. Visits declined by one third in Q4. Similar results were seen in the Japanese market. But other long-haul destinations such as Australia, Canada and Saudi Arabia all experienced growth.

Launched in response to both the opportunities and threats posed by the global economic climate, 'Only in London' aims to showcase the truly unique experiences that the city has to offer.

Mayor of London Boris Johnson said:
"A two per cent increase in our UK and overseas visitors is excellent news. It shows that London is weathering the downturn well and our investment in marketing our great city at home and abroad is paying off. I am extremely confident our latest, innovative campaign will reap further rewards as tourists realise London has such a great variety of things to do, to see, and to visit and because of the favourable exchange rate it's unbeatable value too."
Visit London's Chief Executive Sally Chatterjee commented
"London's visitor figures have remained steady despite a dip towards the end of last year; however, it is more important than ever that we continue to promote London to both domestic and international audiences. We believe the 'Only in London' campaign will keep London at the forefront by promoting the great one-of-a-kind experiences that make London one of the most unique cities in the world."
The international campaign launches today and will feature print advertising in national and regional press and digital screens in the UK and online in key short and long haul markets. Additional radio and print advertising will roll out internationally throughout May and June. The £2m campaign was announced by Mayor of London, Boris Johnson last month and this week the boroughs of Camden, the City of London, Kensington & Chelsea and Westminster - who between them represent around 50% of tourism spend in the capital - announced their support for the campaign with a further £400,000 funding boost.

Notes to Editors
Contact