Foreign Direct Investment into London Shows Resilience
Please note: In April 2011 Think London merged with Visit London and Study London to become London & Partners. These archive press releases are here for information only.
Think London, the foreign direct investment agency for London, has welcomed the results for foreign direct investment (FDI) into London published by UK Trade & Investment (UKTI), the government's international business development organisation, today.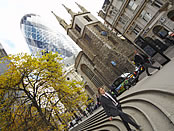 Between April 2008 and March 2009 UKTI reported 527 foreign direct investment projects creating and safeguarding over 11,500 jobs in London, highlighting the resilience of foreign direct investment into the capital during the economic downturn.
London continues to drive FDI into the UK, accounting for 30%* of all foreign direct investment into the UK. Furthermore, FDI contributes more than a quarter to London's economy, generating more than £52 billion each year. More than half a million people in London work in overseas-owned firms.
The Mayor of London, Boris Johnson, said: "The capital has faced tough economic challenges over the past year and we are doing everything in our power to ease the effects of the recession on Londoners and businesses, through our Economic Recovery Action Plan and with promotional bodies such as Think London. To ensure London remains competitive it is vital to attract overseas businesses to invest here and unashamedly sell the capital at every opportunity. One of my major priorities is to make this the best city in the world to do business in, and so it is extremely heartening to see these positive results from UKTI which show that investment continues to flow into the capital."
Significant inward investment projects completed in the past year include Think London clients China Construction Bank, the second largest bank in the world by market capitalisation, which established its London office in Canary Wharf earlier in June; Sony Computer Entertainment setting up and expanding their operations; Costco the US-based wholesale club; Kingfisher Airlines who launched their inaugural London to India flights in December; and Microsoft, which chose London as the location of its new European Search Technology Centre, creating 160 jobs.
Minister for Trade, Investment and Business Lord Davies said: "International trade and investment is vital to the long term economic health of the UK. Today's results illustrate strong international confidence in the UK economy and the contribution of this investment will be critical to our ability to compete and succeed as a country in the future."
Think London will release its annual figures on Wednesday 15 July 2009, focusing on new investments, retention and expansion projects secured by Think London.
Notes to Editors
* Figures include new investments, expansions, mergers and acquisitions, joint ventures and R&D programmes.
Contact
Please contact the London & Partners PR team.