Canon Europe Announces Move to New Headquarters in London
CANON EUROPE NEWS RELEASE
Please note: In April 2011 Think London merged with Visit London and Study London to become London & Partners. These archive press releases are here for information only.
Canon Europe announces today plans to move to a new headquarters in London.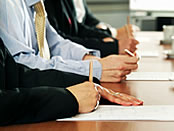 The decision follows a strategic review, which will see the consolidation of sales and marketing functions in the UK and key departments moving to London from Canon Europa N.V. in Amstelveen. The new Canon Europe headquarters will be located in Stockley Park, near Heathrow.
The move is designed to support improved communications and better decision making across the Europe, Middle East and Africa (EMEA) region and create a more effective organisation to support Canon's customers.  
Ryoichi Bamba, President and CEO of Canon Europe, said: "We have transformed our headquarters in London in order to better support our customers in EMEA. A London location will be beneficial for both our customers and partners, and bring us closer to key players in the global business community."
The Mayor of London, Boris Johnson, said: "It's brilliant news that such a renowned, world-beating company as Canon has chosen our great city to establish its European HQ. We will do all we can to help them consolidate their operations in west London and ensure the staff relocating here settle in. Like many other global companies, Canon recognises the magnificent opportunities that London offers for overseas business, with unrivalled access to western markets, a skilled workforce and one of the most diverse social and leisure scenes in the world.
"My message to global companies, looking to follow Canon, is that you will not only receive the warmest of welcomes but we will ensure you get off to a flying start in our city and are immediately successful. We are investing heavily in our infrastructure to provide business opportunities, as well as in skills and training programmes, and I am therefore supremely confident that the future is extremely bright for global companies who choose to set up shop in London."
Notes to Editors
Contact
Please contact the London & Partners PR team.