Associations enjoy a 'slice' of London's accommodation offer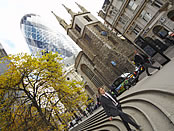 Visit London has launched the first ever London Accommodation Charter for the associations sector. The charter was launched to press and guests on Visit London's stand at International Confex trade show (Earls Court, London).
The charter has been created by Visit London's dedicated association team who have worked with 12 major hotel groups to create the charter terms. The hotel groups represent over 39,598 bedrooms hotel rooms in London, which is approx. 39% of the overall bedrooms available in the capital (there is approx.100,000 hotel bedrooms in London at the moment). The charter has been created to simplify the process of sourcing London hotel rooms for events that require 1,000 beds or more.
Becky Graveney, Associations Sales Manager at Visit London said:
"This charter is incredibly important for supporting larger groups coming into the capital. Visit London has joined forces with London's major hotel groups to show a united front, and have agreed a number of common standards for large city-wide accommodation requests. This reinforces the fact that London both wishes to attract larger congresses and make the room booking process easier for large groups."
Commercial Director of Visit London David Hornby added: "The Accommodation Charter is just another proactive initiative which Visit London has created to support both the London hospitality sector and event planners considering London globally and locally. London's growing hotel offer is incredibly important to the tourism fabric and the infrastructure of the capital especially with our future that includes the London 2012 Olympic and Paralympic Games and many more major events and congresses."
The charter applies to accommodation blocks of 1,000 rooms on peak night across multi brands. The following London hotels have signed the charter which can be viewed at http://www.visitlondon.com/associations:
Accor Hospitality, City Inn, Guoman, Hilton, Hyatt Regency, InterContinental Hotels Group (IHG), Marriott, Millennium & Copthorne, Park Plaza, Premier Inn, Radisson Edwardian and Travelodge.
A working team was created by Visit London to create the charter terms and conditions. The working team included Visit London's Graveney, Kathleen O'Flynn from Hilton Hotels Corporation and Richard Farrar representing Park Plaza hotels. The team created the charter's outline and agreed terms, which were then presented to the different hotels for their feedback and support.
Richard Farrar from Leaf Hospitality working on behalf of Park Plaza Westminster Bridge (opening in 2010) added: "The charter will enhance London's reputation further by simplifying the process of securing accommodation for large-scale conventions, associations and groups. The net gain to London will be significant in the long run. With the Park Plaza Westminster Bridge opening in 2010 with 1,021 bedrooms and 2,700m² of meeting space, it was important to have the charter in place as soon as possible."
Graveney concluded: "The difference that the charter will make is that these large accommodation requests will go to the key hotel Directors of Revenue who can make their decisions from a global perspective. By working with these directors we're able to get large bookings quickly and at a competitive global rate. Group bookings are important for the city, both now and as legacy from the London 2012 Olympics Games and Paralympic Games.

The charter's agreement for the hotels includes the following terms:
• Standard allocation release times (attrition)
• Standard commission rates
• Single/double room rates the same
• Standard policy for no shows and cancellations
• Standard check-in/out times
• Standard complimentary room policy
The accommodation charter is just one of a number of initiatives created by the Visit London Associations team. Other initiatives recently launched included an associations-focused section on http://www.visitlondon.com/associations, an association marketing toolkit, a bespoke association's directory and a bi-annual association e-newsletter.
The charter will be an on-going document which new hotels can sign up to. If you would like more information on the charter or would like to sign up or receive the associations e-newsletter then please email
associations@visitlondon.com
Notes to Editors
Contact