£400,000 boost for Mayor's tourism drive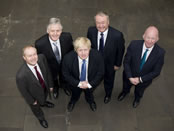 The Mayor of London Boris Johnson today announced a major boost to the capital's £2m tourism campaign, Only in London, with a £400,000 cash injection from four central London boroughs.
The Mayor outlined plans for a new £2m Visit London campaign to promote the capital to the rest of the UK and abroad last month. The additional £400,000 is provided by City of London, Camden, Westminster and Kensington & Chelsea, who represent around 50 per cent of tourism spend in the capital. The extra funding will considerably strengthen the campaign's impact in key international markets.
To mark the start of the 'Only in London' campaign this week, the Mayor was joined by representatives from the four boroughs at the launch of "West End – It's Time" in Covent Garden - the first in a series of unique events under the "Only in London" umbrella.
'Only in London' is expected to deliver an additional £60m in economic benefits to the city by the end of the year and follows Visit London's highly successful £600,000 winter marketing campaigns which, to date, have returned £6.7 million to the economy.

Mayor of London Boris Johnson said:
"With all this hard work and investment London is weathering the downturn well, resulting in a two per cent increase last year in UK and overseas visitors. These additional funds to the war chest from our partner boroughs will make a big difference to the results of our exciting campaign and will help boost visitor numbers further.
"Whilst we kick off our marketing drive today with 'West End it's Time', a unique initiative to drive visitors into the centre of London, it is crucial that we take nothing for granted and continue shouting from the rooftops that London is a fantastic city to visit, whether filling your shopping bags, visiting one of our incredible museums, or grabbing a meal."
Visit London's Chief Executive Sally Chatterjee commented
"I'm delighted that four key central London boroughs have backed the "Only in London" campaign. Tourism is an industry that can produce results even in a recession, so it's essential that we continue to promote London to both domestic and international audiences. The 'Only in London' campaign keeps London at the forefront by promoting the great one-of-a-kind experiences that only our capital can offer. We want to challenge visitors to discover things that make London one of the most incredible cities in the world."
Cllr Keith Moffitt, Leader, Camden Council said:
"I am delighted Camden is pledging its support to this campaign. Camden is an important tourism attraction for London. With 4 million visitors to Camden every year, it is responsible for 10% of all employment in the borough and plays a major part in boosting the local economy.
"Camden is best known, perhaps for Camden market but is also a hub of youth culture, live music venues, and museums, many of which are free to attend. It offers green open spaces, including Regents Park and Hampstead Heath and boasts west end theatres such as Shaftesbury and Bloomsbury.
"During tougher economic times it is especially important we continue to invest and grow Camden's tourist industry ensuring it remains one of London's most popular tourist destinations and an essential source of employment opportunities for local people."
Chris Duffield, Town Clerk and Chief Executive at the City of London Corporation said:
"The City of London is delighted to support this campaign which will provide a much-needed boost to London's visitor economy during this difficult economic climate.
"Tourism is a vital contributor to the wider London economy and it is important that we continue to support retailers, restaurants, hotels, venues and attractions across the Capital.
"In the City we welcome visitors from across the globe who experience a place which offers so much more than just big business and finance. In just over one Square Mile you can walk in the footsteps of Chaucer, admire the world-famous Tower Bridge, marvel at the mighty dome of St. Paul's Cathedral take in a show at the Barbican, or drink in the same watering holes as Mark Twain, Arthur Conan Doyle and contemporaries of Shakespeare. It is certainly not a place to be missed."
Cllr Paget-Brown, Cabinet Member for Transportation, Environment and Leisure at Kensington & Chelsea said:
"Tourism is a hugely important part of the economy in the Royal Borough of Kensington and Chelsea and we are delighted to be part of Visit London's Only in London campaign. Kensington and Chelsea is an incredibly popular destination for Londoners and visitors alike as the borough offers a wealth of unique shopping, museums, events, occasions and heritage that are known the world over. This campaign will allow us to showcase not only those famous parts of the borough but also some of the more individual and unique pleasures of the Royal Borough unfamiliar to some visitors."
Leader of Westminster City Council, Cllr Colin Barrow, said:
"The West End is the unrivalled shopping and entertainment capital of Europe and its continued appeal to visitors despite the recession is testament to this.
"Tourism is vital to the economy of central London, especially during these difficult times. This is why are working together, along with the Mayor and other agencies, to promote tourism in the capital to visitors from home and abroad.
"It's an incredibly exciting time for Westminster as we are in the midst of one of the biggest investment programmes for a generation by both the public and private sector which is gradually transforming the West End and beyond to ensure it retains its iconic status, particularly in the run up to 2012.

Notes to Editors
Other forthcoming unique events in London include The Story of London – a festival celebrating London's past, present and future – which will showcase London's history, architecture, art, music, theatre, food, film and fashion through hundreds of events throughout the city.
The emotional call of 'Only in London' captures all of the truly unique experiences that the city has to offer – from culture, heritage, fashion, music, shopping, sightseeing and much more. It's a celebration of the diverse attractions and experiences that this thriving, multicultural, 24-hour city has to offer.
The campaign will break in the UK on Wednesday 29th April then roll out internationally to key European markets and North America over the next few months.

Contact