2012 Events Industry Fair Pricing & Practice Charter hits 100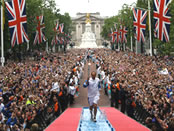 As the Events 2012 & Beyond Conference approaches and Dan Ritterband, Director of Marketing at the London Mayor's office, is announced as keynote speaker, over 100 organisations have already signed up to the 2012 UK Events Industry Fair Pricing & Practice Charter since its launch late last year.
With just over three years to go until London hosts the Olympic Games in 2012, the first official conference for the UK events industry on the subject of the games will take place on Tuesday 24th February 2009 at Earls Court Conference Centre on the opening day of International Confex.
David Sharpe, Head of the Events 2012 Development Group said: "Reaching 100 signatories to the Charter is a real milestone, and comes at a time when the industry is beginning to gear up for the games in 2012. The conference next week provides a unique opportunity for the entire industry to hear directly from a series of experts, including major Olympic sponsors, who are willing to share their extensive knowledge and expertise. Planning for events relating to the games has already begun and we are urging everyone to get involved now to ensure they maximise the opportunities that the games provide."
Signatories to the Charter, which was created by Visit London and VisitBritain with support from the London Organising Committee of the Olympic Games (LOCOG), undertake that their pricing for the period around the 2012 Olympic Games be both fair and reasonable. In turn, Charter members will be promoted to organisers seeking venues and suppliers via Visit London's enquiry service and through Visit Britain's network of overseas offices.
Delegates can still register for places at the conference by visiting http://www.events2012andbeyond.com and signatories to the Fair Pricing & Practice Charter can purchase tickets at a special discounted rate.

Notes to Editors
The Events 2012 Development Group is a not for profit initiative created by Visit London and Visit Britain, with the support of LOCOG, to manage communications with the UK events industry and help maximise the Olympic opportunity.
Members of the Development Group include; David Sharpe - Merlin Entertainment Group, David Hornby - Visit London, Tracy Halliwell - Visit London, Joss Croft - Visit Britain, Alistair Scott - Sodexho, Steve Brice - The 02, Paul Grecian - Gallowglass, Ben Goedegebuure – SECC, Claire Lawson - The Grove, and Robert Wright - Davies Tanner.
LOCOG
The London Organising Committee of the Olympic and Paralympic Games (LOCOG) is responsible for preparing and staging the 2012 Games. LOCOG is led by Sebastian Coe (Chair) and Paul Deighton (Chief Executive). It is based in Canary Wharf along with the Olympic Delivery Authority.

Contact