Prudential RideLondon
The creative idea for RideLondon came from our very own Iain Edmondson (Head of Major Events).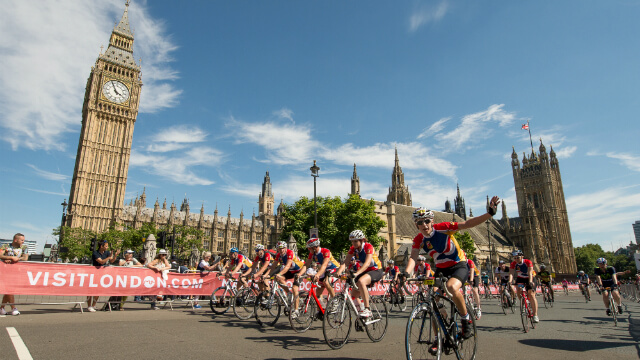 The Organisers
Prudential RideLondon is a multi-award winning annual, world-class festival of cycling developed by the Mayor of London, London & Partners and Transport for London (TfL) in partnership with Surrey County Council. The event is managed by the London & Surrey Cycling Partnership (LSCP).
LSCP is a joint venture between London Marathon Limited, owner and operator of the Virgin Money London Marathon, and SweetSpot Group, operator of the Tour of Britain. LSCP works in partnership with British Cycling, London Boroughs, London Legacy Development Corporation, National Trust, The Royal Parks and many other organisations who are integral to the successful delivery of the event.
The Event
RideLondon provides a fantastic platform to help fulfil the Mayor and TfL's goal of encouraging more people to cycle more safely and more often. TfL anticipates that tens of thousands of spectators and participants every year will take up regular cycling after each event. This will be achieved by creating massive engagement with participants, spectators and media alike.
In 2016, RideLondon became a three-day world-class festival of cycling. This included:
RideLondon Grand Prix:A series of criterium races taking place at the Lee Valley Velopark including the Handcycle Grand Prix and Youths Grand Prix showcasing future BMX and road racing stars.
RideLondon FreeCycle: An eight-mile traffic-free loop on closed roads in central London for all ages and cycling abilities, featuring famous landmarks and seven festival zones with free bike-based entertainment and activities
RideLondon Classique: Women's elite race over a 5.5km circuit forming part of the UCI Women's WorldTour 2016 and is the world's richest race in women's cycling with prize money equal to the men's race. The live action was televised on BBC.
Brompton World Championship: An eccentric spectacle of 500 riders on Brompton folding bikes racing over eight laps of St James's Park finishing on The Mall, smartly dressed with no lycra or sports kit allowed.
RideLondon-Surrey 100: A 100-mile challenge for amateurs on traffic-free roads from central London to the Surrey Hills and back with the finish on The Mall. Over 25,000 participated and a large number raised money for charity. 
RideLondon-Surrey 46: Launched by Sir Bradley Wiggins for newer and younger cyclists, the 46-mile route follows a condensed version of the 100, starting at QEOP and finishing on The Mall. 
RideLondon-Surrey Classic: 150 of the world's best male professional cyclists take to the roads of London and Surrey for a 200km race that is part of the UCI's official race calendar. Chris Froome participated for the first time this year following his Tour de France win.
Broadcast and Economic Benefits
To capture it all, the best action is broadcast live on TV in the UK and internationally generating 75 hours of global TV coverage. In 2015, the event was watched by 3.2 million viewers (peak time average) on BBC TV, with a global audience extending from Europe and the USA to New Zealand and Brazil. Over 300,000 spectators and more than 100,000 novice and professional cyclists took part, raising over £12+million for charity.
Alongside the money raised for good causes, RideLondon generates sustainable, long-term economic benefit for London and the UK. Participants and spectators come to London from the UK and overseas to spend their time and money in the capital.
Independent research carried out during the 2015 event demonstrated that it generated £24m in economic benefit. In addition, independent research was carried out to assess the value of the national and international TV broadcast. This demonstrated that London and Surrey benefited from £28.15m worth of media coverage from the broadcast of RideLondon-Surrey Classic in 2014.
The event also provides a long-term source of income for investment into improving cycling conditions in London, and opportunities to channel people to other cycling initiatives.
 
http://www.prudentialridelondon.co.uk/
Awards
European Sports Tourism Awards 2015 - RideLondon 2015 winner of European Sport Tourism Event of the Year
BT Sports Industry Awards 2015 - RideLondon 2014 winner of Participation Event of the Year
BT Sports Industry Awards 2014 - RideLondon 2013 winner of Participation Event of the Year
UK Event Awards 2014 - RideLondon 2014 winner of Sports Event of the Year
UK Event Awards 2013 - RideLondon 2013 winner of Large Event of the Year and Sports Event of the Year
International Sports Event Management Awards 2013 - RideLondon 2013 runner-up for the Most Innovative Event
 
London & Partners Major Events team:
Georgina Warren – Senior Project Manager
Iain Edmondson – Board Member
Antonia Lee – Project Marketing Manager