Menuhin Competition 2016
Founded by Yehudi Menuhin in 1983, the Menuhin Competition is the world's leading competition for violinists under the age of 22 and takes place in a different international city every two years.
It was last held in London in 2004 and returns to the capital in 2016 in celebration of Yehudi Menuhin's centenary.
The event took place in partnership with some of the UK's leading music organisations: the Royal Academy of Music, the Philharmonic Orchestra, Southbank Centre, the Yehudi Menuhin School and the National Youth Orchestra of Great Britain.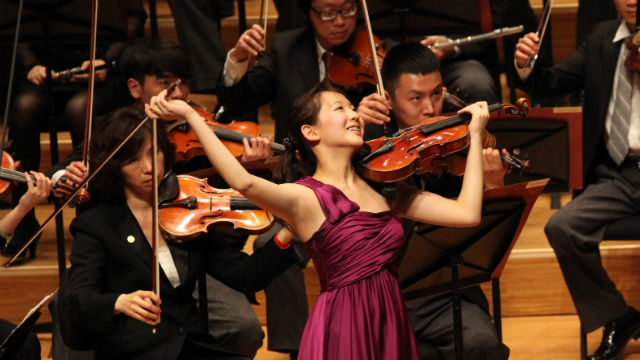 Yehudi Menuhin lived much of his life in Britain, and his legacy - not just as one of the greatest violinists of the 20th century, but as an ambassador for music education is the focus of the competition's programming. 
The Competition's aim to discover and help exceptionally talented young musicians from around the world develop into artists of the highest calibre and this has been demonstrated by its impressive array of previous winners, which include Tasmin Little OBE, Julia Fischer, Ilya Gringolts, Nikolaj Znaider, Ray Chen and Chad Hoopes.  
More a festival of music and cultural exchange than a mere competition, the Menuhin Competition 2016 was a rich ten-day programme of concerts, master classes, talks and participatory activities with world-class performances from candidates and jury members alike. The Competition rounds took place at the Royal Academy of Music, with concerts held at London's Southbank Centre.
The event was presented in association with the BBC Concert Orchestra and BBC Radio 3 which broadcast the major concerts.
Duncan Greenland, Chairman of the Menuhin Competition said:
"We are delighted to be bringing the Competition to London in Menuhin's centenary year and working with such prestigious partners. With Menuhin's legacy at its core, a sense of learning and participation is as important as the competition itself and, with its festival spirit of collaboration and collegiate sense of nurturing, the Menuhin Competition is unique among music competitions."

Welcomed to London by the British Government and London & Partners, The Mayor of London Boris Johnson said:
"It is wonderful that the prestigious Menuhin Competition is coming back to London in 2016, the centenary year of the great maestro. This exciting showcase of some of the best young violinists from across the globe will be a feast for music fans, which I hope will inspire other gifted young people in the capital and across the country."
Broadcast and Economic Benefit
The Major Events Team worked with the organisers to raise awareness of the competition both to a domestic audience and to some of our key overseas territories. We provided marketing support in the run up to and during the Competition, our goal was to help ensure that the event made a significant impact in London.
The organisers have produced this documentary, so you can experience just how amazing this competition was.
More information
www.menuhincompetition.org
London & Partners' Team
Senior Project Manager: Georgina Warren
Project Marketing Manager: Antonia Lee