Lumiere London
The multi-award winning light festival transforms iconic landmarks with extraordinary light installations.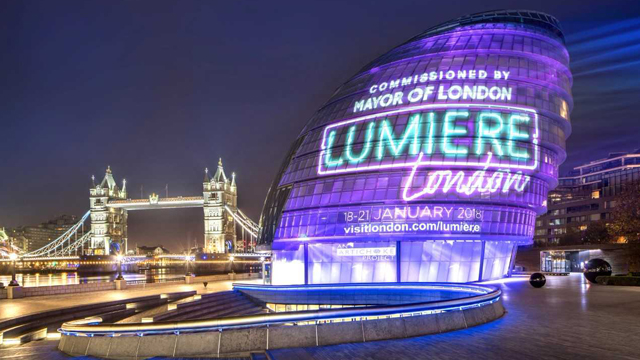 Lumiere London light festival returned for a spectacular second edition from 18-21 January 2018 with more than 40 installations. Find out more visitlondon.com/lumiere
The inaugural Lumiere London took place from 14-17 January 2016. It was a free outdoor light festival hosted across over 20 landmark locations in central London's West End and King's Cross. It transformed the capital's iconic buildings and public spaces with 30 installations of ground-breaking artwork from world-class British and international artists.
Produced by Artichoke and supported by the Mayor of London, Lumiere London took place during the quietest, darkest and coldest time of the year to help boost business and footfall.
What we did
City co-ordination
Working in partnership with the GLA and Lumiere London's producers Artichoke, we helped progress the concept and maintain momentum behind the festival.

Event marketing through digital channels
We (London & Partners) were the lead media partner for Lumiere London and visitlondon.com/lumiere the digital home of the event.

Providing support
We also provided further support with fundraising, communications and international PR to help position the event as London's next big thing.
Key results
Advertising Value Equivalent (AVE)
page views on visitlondon.com
visitlondon.com/lumiere users