Union Cycliste Internationale (UCI) 2016 Track Cycling World Championships
London was delighted to host the UCI 2016 Track Cycling World Championships at the Velodrome in Queen Elizabeth Olympic Park.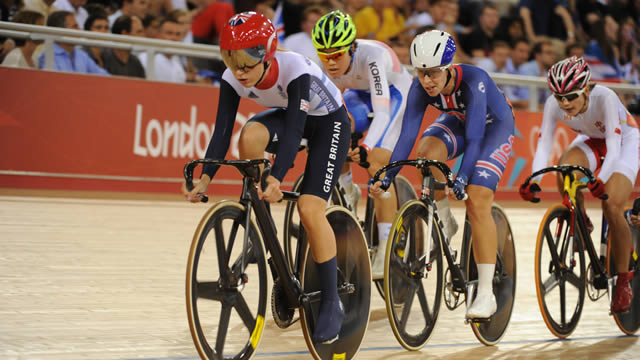 The bid was led by British Cycling as the national governing body of the sport. It was delivered in close partnership with the Mayor of London, Lee Valley Regional Park Authority, London & Partners, Queen Elizabeth Olympic Park, UK Sport and with the full support of the British Government.
After London hosted the 2012 UCI Track Cycling World Cup, the London 2012 Olympic and Paralympic Games and Prudential RideLondon 2013, interest in cycling reached fever pitch. This is one reason why London was able to provide an unrivalled platform to capitalise on the excitement for the UCI's most prestigious track cycling competition.
The successful bid also honoured the promise made to the UCI to deliver a long-term legacy for track cycling in London; attracting new audiences to the sport, encouraging greater investment in the sport and inspiring the next generation of track cycling enthusiasts.
The UCI 2016 Track Cycling World Championships was staged at an iconic Olympic venue, a place drenched in the memories of world records and gold medals, brimming with passionate fans full of support for every athlete competing.
Boris Johnson, Mayor of London, said in the lead up to the event: "I want our great capital city to play its own part in the cycling revolution that is taking place by hosting the Track Cycling World Championships in 2016."
Brian Cookson OBE, President of British Cycling, said: "Track Cycling is one of the most thrilling cycling disciplines and by bringing the 2016 UCI Track World Championships to London we will showcase the sport to a huge local, national and international audience."
London & Partners added value to the bid by providing Mayoral endorsement, marketing support and commitment through legal/financial contractual responsibility and use of city assets
Post event
The 2016 UCI Track Cycling World Championships at London's Lee Valley VeloPark was "the biggest and best track cycling event yet" British Cycling director of cycle sport and membership Jonny Clay said, following an impressive weekend where Great Britain topped the medal table in front of a sell-out crowd.
Echoing comments made by Tom van Damme of the International Cycling Union's (UCI) management committee who described it as the "best track worlds ever", Clay said: "This year's UCI Track Cycling World Championships has undoubtedly been the biggest and best event yet. With more people attending than for London 2012, it is apparent that the appetite for watching live track cycling is greater than ever.
Sunday night's Madison win by Sir Bradley Wiggins and Mark Cavendish capped an amazing five days but everyone who came to every session would have been entertained by some of the best sport you'll see anywhere.
"The support for the Great Britain Cycling Team was phenomenal and undoubtedly played its part in some great medal successes but I was also thrilled by how riders from every country got great backing from the crowd.
"TV viewing figures were equally impressive with over two million people tuning in to see Thursday night's men's team pursuit on BBC2. This was just the boost the Great Britain team needed ahead of Rio and we're excited about another amazing summer for cycling."
World champion in the points race, Jon Dibben, said: "The crowd's support was massive, every time I attacked I got a cheer and that gives you a boost. The crowd got behind me from the gun."
World champion cyclist Sir Bradley Wiggins added: "The roar again when it was looking like we were going to get a lap. To send all those people away happy is such a nice feeling, it really is."
Key highlights

• Great Britain's medal haul totalled an impressive nine; five gold, one silver and three bronze, ahead of Germany's eight and Australia's five.
• The event was the biggest UCI Track Cycling World Championships in the modern era, with over 50,000 tickets sold.
• Viewing figures for Thursday's men's team pursuit peaked at two million.
• More tickets were sold for the event than were for London 2012.
More information: trackcyclingworlds2016.london
London & Partners Major Events team:
Sarah Neil – Project Manager
Iain Edmondson – Head of Major Events
Antonia Lee - Project Marketing Manager