Discover London & South East England in three days
Discover London and the beautiful South East of England with our three-day itinerary.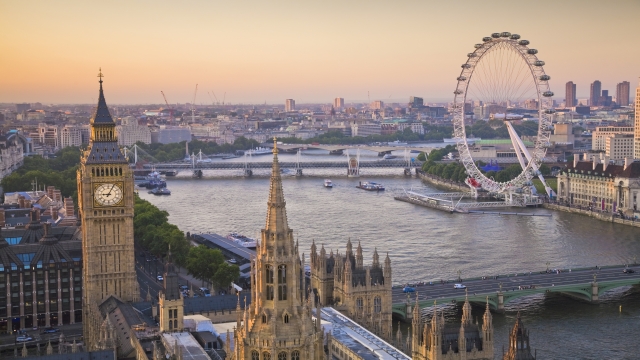 London has something for everyone - from world-class heritage sites to the finest shopping hotspots - and just a short train ride away your group can experience the authentic British countryside, enjoy a day at the beach or visit an ancient Norman castle.
Day One
Morning: Tower of London and Tower Bridge
Start your trip at Tower of London - London's most notorious prison and home to the precious Crown Jewels. Join an iconic Beefeater on a tour and hear their bloody tales, learn the legend of the Tower's ravens, storm the battlements and get to grips with swords and armour. Walk to Tower Bridge and visit the Tower Bridge Exhibition– here you'll see some of the most spectacular views up and down the River Thames and you'll learn about the history of one of London's most famous landmarks.
Lunch: Borough Market
Have a foodie lunch at Borough Market, London's most renowned food market with more than 100 gourmet food stalls and stands. Producers from all over the country bring a range of fresh produce to the market, including fish, meats, vegetables, ciders, cheeses, breads, coffees, cakes and patisseries. Other stalls specialise in produce imported from abroad. The full market operates from Wednesday to Saturday.
Afternoon: Explore the river by boat and visit the Houses of Parliament
Head to Tower Pier and jump aboard one of the many City Cruises' boats that operate along the river - this is one of the best ways of exploring the Thames and the city! Head west towards Westminster Pier to enjoy sights such as Tate Modern, The Coca-Cola London Eye, Big Ben and Houses of Parliament. Get off at Westminster Pier and head to the Houses of Parliament for an exclusive tour. You will discover the impressive Westminster Hall, walk through the Royal Gallery and visit both the Commons and the Lords Chambers, among other highlights.
Dinner: Cinnamon Club
Enjoy international cuisine in an unusual setting at Cinnamon Club - situated inside the Old Westminster Library, the restaurant offers modern Indian food and an inspired wine list, both of which have contributed to its enviable reputation.
Day Two
Morning: Kensington Gardens and Kensington Palace
Why not start the day at Kensington Gardens? This Royal Park is home to Kensington Palace, a stunning 18th-century building that serves as royal residence to the Royal Family. A visit to the peaceful Italian Gardens is a must, a 150-year-old ornamental water garden located on the north side of the gardens near Lancaster Gate. Combine the trip with a visit to Kensington Palace or hire a boat on the Serpentine.
Lunch with a view at Babylon restaurant
A few minutes' walk away from Kensington Gardens you will find Babylon. Amazing views, relaxed environment, central location, fantastic service and great seasonal menus – Babylon fulfils them all, and takes bookings for anything from tables for two, an area seating up to 28 guests or even exclusive hire.
Afternoon: Guildford
In the afternoon jump on the tube to Waterloo station, where you'll catch a direct train to Guildford in Surrey. In under 30 minutes you'll be walking along the cobbled High Street of Guildford, shopping and taking in the museums, castle and Cathedral, all set against the stunning backdrop of rolling hills.
Dinner: Steak and Lobster
Located in the heart of the town, Steak & Lobster Guildford is a fun and modern restaurant with an easy-going attitude to dining and a great range of stylish drinks to boot. Choose between a 10oz dry-aged steak and a fresh whole lobster served in the half-shell.
Day Three
Morning: Portsmouth
The city of Portsmouth is just over one hour by rail from Guildford. Portsmouth, the great waterfront city, has miles of sea views and centuries of history. Located on the South Coast of England, it is an island city, totally surrounded by water. Ascend 170m to the top of Spinnaker Tower and enjoy a panoramic view of the harbour, the naval port and the Isle of Wight. With over 800 years of naval history, Portsmouth's Historic Dockyard is a must-see - featuring attractions such as the HMS Victory, HMS Warrior 1860 and the Royal Marines Museum.
Lunch and afternoon: Gunwharf Quays
Enjoy an unrivalled mix of 90 premium outlet stores and 30 restaurants and bars at Gunwharf Quays – a key premium outlet shopping destination on the South Coast. Brands include Polo Ralph Lauren, Hugo Boss, Karen Millen, North Face and many more.
Dinner: Traditional British food at The Old Customs House
Finish off your three days break with a traditional British meal in this protected ancient monument. Now fully refurbished, The Old Customs House offers a fantastic selection of traditional British culinary delights - popular dishes include beer battered fish and chips, home-made steak ale and mushroom pie and traditional local sausages with mashed potato.