London on a Budget Itinerary
Packed three-day itinerary to help you visit London on a budget.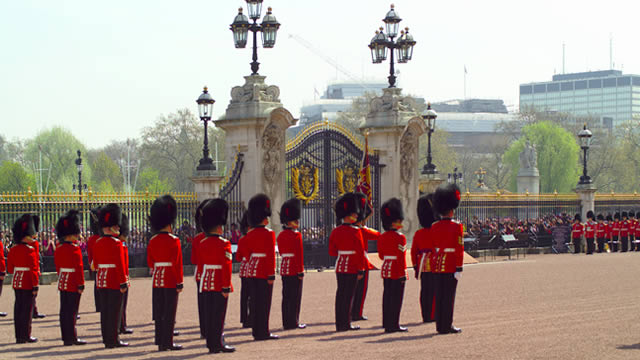 Budget Accommodation
For budget accommodation, try one of London's excellent hostels.
If you're visiting during the summer, university halls of residence such as Queen Mary and Imperial College offer another value-for-money accommodation option that's not just for students.
Day One
Morning: Walking Tour or Changing of the Guard
Head to TKTS in Leicester Square to see which West End shows are offering half-price tickets for that evening.
Next, take one of the many London Walks on offer, to discover more about the rich history of the city. Costing just £7, the tours range from the fascinating Hidden London to the chilling Jack the Ripper Walk.
Alternatively, go to Buckingham Palace to watch the Changing of the Guard ceremony, which happens every other day at 11.30am.
Lunch: Café in the Crypt
If you haven't brought a packed lunch, head to the Café in the Crypt at St Martin-in-the-Fields church in Trafalgar Square. Visit on a Monday, Tuesday or Fridays and you might also catch a free lunchtime concert!
Afternoon: Free London Art Galleries
Visit the National Gallery, home to one of the greatest collections of European paintings in the world. The permanent collection spans the period from 1250 to 1900 and admission is free.
Go next door to see portraits of Britain's greatest movers and shakers from the 16th Century to the present day at the National Portrait Gallery. Admission is also free.
Evening: Noodles and a Show
Head to London's Chinatown, one street north of Leicester Square, and enjoy some affordable food from one of approximately 80 restaurants located on and around Gerrard Street. Next, take your half-price show tickets and enjoy a night at the theatre!
Day Two
Morning: Market Shopping
For shopping that won't break the bank, head to Old Spitalfields Market where - depending on the day of the week - you'll find everything from vintage clothes and jewellery to arts and crafts. Find out more about London's top 10 markets. 
After you've soaked up the atmosphere, grab some lunch at one of the restaurants or cafes lining the market. Or, if it's the weekend, pick up some tasty street food at the Boiler House indoor food market on Brick Lane.
Afternoon: British Museum
Next it's off to the British Museum, London's single most visited museum, featuring exhibits such as the 2,000-year-old Lindow Man, Egyptian pharaohs and treasures from all over the world. Entrance is free so it doesn't matter how many times you need to go before you see it all!
Evening: British Cuisine
For dinner, make your way just south of the British Museum to Great Russell Street where you will find the Scoff & Banter Bloomsbury restaurant. Discover delicious modern British cuisine and a glass divide between the kitchen and diners, enabling guests to watch the chefs prepare their creations.
Alternatively, there are many restaurants near the British Museum where you will find everything from traditional English to more exotic cuisine.
Day Three
Morning: National Maritime Museum
Take the Docklands Light Railway to Greenwich, where you can explore Britain's seafaring history for free at the National Maritime Museum.
The Old Royal Naval College, designed by Sir Christopher Wren, was the site of the Royal Hospital for Seaman and later became a college for naval officers. Highlights include the chapel and the beautiful Painted Hall. (Admission is free, but there's a small charge for tours.)
If you're visiting between Tuesday and Sunday, don't miss Greenwich Market with its unique shops and arts and crafts stalls.
Lunch: Fish and Chips in Greenwich Park
Buy some take-away food from the tempting stalls at Greenwich Market and head to Greenwich Park to admire the view over the whole of London. Or try the Trafalgar Tavern, one of London's oldest pubs, situated on the banks of the River Thames.
Afternoon: Royal Observatory
Stand on the Greenwich Meridian Line, which divides East from West, and explore the history of time and the universe at The Royal Observatory. (Only entrance to the Astronomy Centre is free.)
On your way back to the station, pop into Queen's House. Built by Inigo Jones, it now serves as a gallery for maritime art collections and portraits of the Tudor and Stuart kings and queens associated with its history.
Evening: Cocktails and Dancing
For a taste of Latin America, take the train to Waterloo East and head for Las Iguanas, set on London's riverside Southbank. As well as dishes inspired by authentic regional dishes from Brazil, Colombia and Argentina, this popular bar and restaurant offers a daily Happy Hour (all day Sunday to Wednesday and 12-7pm and 10pm 'til late Thursday to Saturday).
If you want to continue partying into the night, head to Guanabara near Covent Garden. Entry is free all Tuesday, until 9pm Wednesday to Friday, until 8pm Saturday and until 7pm Sunday. If you're quick you might even make it for Happy Hour again (5-8pm Sunday to Friday, 5-7pm Saturday), and every night there's live music and a DJ to dance to.