Queen Elizabeth Olympic Park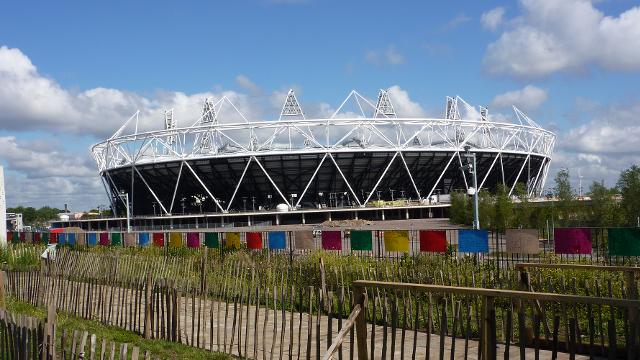 Travel Trade Overview
New green spaces and the ArcelorMittal Orbit at Queen Elizabeth Olympic Park are the latest attractions to reopen to the public for the first time since the London 2012 Olympic and Paralympic Games.
From 5 April 2014 you can explore East London's newest green spaces, visit the venues which hosted the Olympic and Paralympic Games, including the Aquatics Centre and Copper Box for yourself and marvel at new views from the UK's tallest sculpture.
Situated next to the Olympic Stadium, the ArcelorMittal Orbit is Britain's largest piece of public art. Its two viewing platforms give unrivalled views of London from the east – you can see up to 20 miles into the city.
Contemporary art and design masters Anish Kapoor and Cecil Balmond created a new form of tower that does not rise in a straight line, developing the concept of an orbit; a continuous line that loops up and back down around itself.
See over the Olympic Park, and enjoy the fun concave mirrors inside the sculpture.
The Copper Box was the first venue in Queen Elizabeth Olympic Park to reopen to the public. Now home to the London Lions basketball team, it is a major venue for everything from premiership basketball to pop concerts. There's also a public gym, sports hall and café.
During the London 2012 Olympics, the Aquatics Centre hosted the swimming, diving, water polo, synchronised swimming, Paralympic swimming and the swim leg of the modern pentathlon.
Now, the Zaha Hadid-designed building is open to the public with two 50m pools and a 25m diving pool.
Lee Valley Hockey and Tennis Centre features two hockey pitches, four indoor tennis courts and six outdoor courts, plus a clubhouse with changing rooms and a bar. There's a Wheelchair Tennis training centre and a hockey stadium capable of hosting big competitions.
Lee Valley VeloPark is located in and around London's award-winning Olympic Velodrome. The centre will offer facilities for track cycling, road racing, BMX and mountain biking.
The stadium that hosted the London 2012 Olympic and Paralympic Games will be home to West Ham United Football Club from summer 2016. The venue will also host a variety of world-class sporting, music and cultural events.
Queen Elizabeth Olympic Park Location Map
Queen Elizabeth Olympic Park Contact Details
Address:

Stratford
London
E20 2ST

Tel:

+44 800 072 2110

Web: