The London & Partners Leisure Tourism Marketing team is here to help you create exciting trips to London. We work with the travel industry to promote London to individual leisure travellers and groups worldwide.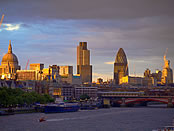 How can London & Partners help?
We offer free, impartial advice and information to travel agents, tour operators, group-travel organisers and ground handlers worldwide and can help with introducing you to our partners and other relevant contacts, provide inspiration and ideas to develop your itineraries and facilitate familiarisation trips. We also provide online resources to help you find the information you need quickly and easily.
If you're unable to find what you're looking for online or would like to speak to someone, please email trade@londonandpartners.com or call +44 (0)20 7234 5818.
The London & Partner Leisure Marketing Team
Louisa Jackley
Senior Marketing Manager – Travel Trade
Sandra Rogat
Senior Consumer Marketing Manager - UK & Europe
Louise Maher
Consumer Marketing Manager - North America & Australasia
Michelle McCracken
Partnerships Marketing Manager
Francesca Corradini
Senior Marketing Executive
Meet the Team
The London & Partners Leisure Marketing team participates in various travel trade events across the globe. We look forward to meeting you at the events listed below:

SEPTEMBER 2014
Destination Britain, North America, Las Vegas, 14-16 September 2014
OCTOBER 2014
Brazil Sales Mission 2014 - London Plus, Rio de Janeiro, 15-17 October 2014
Global European Marketplace (GEM), London, 31 October-1 November 2014
NOVEMBER 2014
World Travel Market, London, 3-6 November 2014
China Sales Mission, Guangzhou & Hong Kong, 24-28 November 2014
DECEMBER 2014
USTOA, Boca Raton, 5-7 December 2014
JANUARY 2015
Excursions, London, 24 January 2015           
Destination Britain Nordics, Stockholm, 28-30 January 2015

FEBRUARY 2015
ExploreGB, London, 25-26 February 2015    

MARCH 2015
ITB, Berlin, 4-8 March 2015
MAMA (March Marketplace), London, 17 March 2015