Feature in London's Official Annual Guides
Featuring our Partners, London & Partners' official guides are distributed worldwide.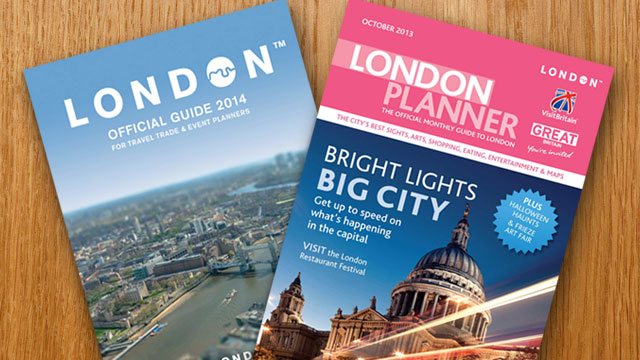 London & Partners Guides
The London Official Guide 2014 for travel trade and event planners is an inspirational brochure with themed itineraries and new features highlighting London's accommodation, meeting venues, attractions, shopping, entertainment, restaurants, and services.
It also includes information on what's new for 2014, themed itineraries, events diary, and details of how the London & Partners team can help the travel trade and event planners.
The Guide is available as a printed brochure and as a PDF on the Travel Trade and Convention Bureau websites.
We distribute copies worldwide including: VisitBritain offices; Travel agents, tour and coach operators; Leisure travel trade shows; Event planners; Business tourism shows; London & Partners sales missions, networking events and roadshows.

Partners can further expand their marketing reach through London & Partners' endorsed guides:

• The London Planner, the official monthly visitor guide
• Where London and IN London which are available in luxury hotels and on prestige travel routes into the capital