Superbreak Mini-Holidays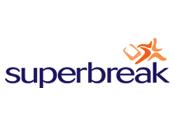 Address:

Eboracum Way


York




YO31 7RE

Tel:

+44 (0) 1904 436000

Email:

Web:
Superbreak Mini-Holidays has specialised in UK short breaks for 18 years, during which time we have received many awards for excellent service by the travel industry. Superbreak Mini Holidays is the preferred UK short break supplier for the UK's 5 largest retail travel agency chains and more than 500,000 customers travel with us every year.
Superbreak.com, incorporating Theatrebreak.com, is the internet division of Superbreak Mini-Holidays Limited, the market leader for short breaks throughout the UK. We are part of Holidaybreak plc, a publicly-quoted leisure company whose share price can be found in most major UK newspapers, or at www.holidaybreak.com.
Based in York, Superbreak specialises in booking 2-5 star hotel accommodation throughout Britain for the leisure traveller. We hold allocations of rooms at all hotels and we can book up to and including the day of departure.
Superbreak Mini-Holidays properties in London