Mayor Announces RideLondon 3 and 4 August 2013
Hot on the heels of incredible success for Team GB's cycling superstars, and accompanied by double gold medal-winning cyclist Laura Trott, the Mayor of London has confirmed plans for the capital to host a two-day world-class festival of cycling next year.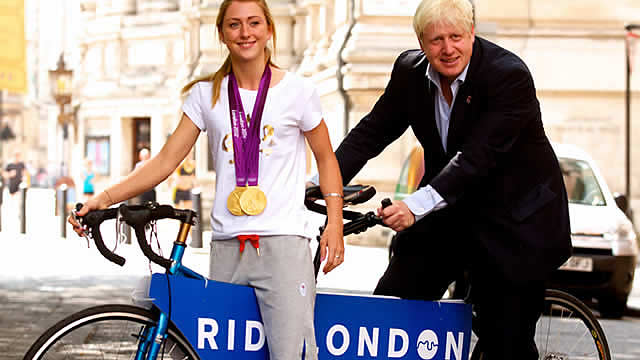 Taking place over the weekend of 3 and 4 August 2013, RideLondon will feature a series of events for amateur, club and world elite cyclists.
RideLondon will be managed by the London & Surrey Cycle Partnership, a partnership between the organisers of the London Marathon and the Tour of Britain. It is predicted that the weekend festival could attract more than 200,000 visitors from outside the capital, lead to a major boost in cycling numbers and generate tens of millions of pounds in economic benefit.
Online registration is now open for cyclists to register their interest in RideLondon, which will open with a family fun ride for up to 70,000 cyclists on an eight-mile loop of closed roads around London's iconic landmarks.
The following day, a 100-mile road race for 20,000 amateur, club and world class elite cyclists will take place beginning in the Queen Elizabeth Olympic Park and based on much of the route of the 2012 Games cycle road race. Women's elite cyclists will also take to the streets of the capital to compete in a city centre grand prix.
Within the first five weeks of registration opening, more than 25,000 registered for the RideLondon 100.
Download the full press release [PDF 124KB]
Further Information
Click here for the launch press release, 10 August 2012
Click here for the RideLondon event brochure [5MB]