New Annual Cycling Event for London
Friday 20 Jan 2012
A new annual, mass-participation cycling event will launch in London in 2013.
The two-day cycling festival will allow families and amateur riders to take part, as well as attracting the world's best elite cyclists.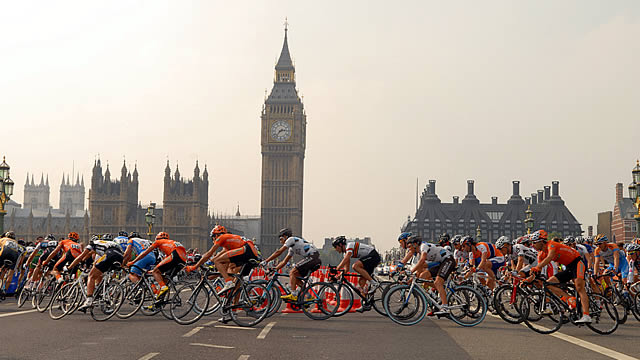 New World-Class Event for London
The event has been developed by the Mayor of London and his agencies, and will be managed by an independent delivery partner, which will invest in the event and be central to the creation of the long-term vision.
Building on the London 2012 Olympic and Paralympic Games, the event will aim to:
Generate sustainable, long-term economic benefits for London
Encourage more cycling in London
Attract an estimated 200,000 visitors from outside London
Achieve national and international media coverage
There'll be two main cycle rides over the weekend, plus "event villages" with a festival atmosphere at the new Queen Elizabeth Olympic Park and Hyde Park.
Saturday: Family-Fun-Free-Ride
Saturday's ride will be aimed at cyclists of all ages and abilities who want to enjoy the fun of cycling in a traffic-free environment.
The route will pass many of Central London's famous landmarks. Up to 70,000 participants are expected to take part.
Sunday: Elite Race and Amateur Cycle Challenge
Sunday's activities will appeal to the world's top elite cyclists and amateur cyclists alike.
The 100-mile route will start at Queen Elizabeth Olympic Park, taking in roads in London and Surrey used in the 2012 Olympic Games Road Race, and finishing in Central London.
Search for a Delivery Partner
The procurement of the independent delivery partner is now underway, and is being managed by Transport for London and London & Partners on behalf of the Mayor and his agencies.
Further Information
Download event brochure [PDF 4.5MB]
Download press release [PDF 57.4KB]
Download press release for the 6 shortlisted delivery partners [PDF 73KB]
For further information about the event, please contact:
Iain Edmondson
Tel: +44 (0)20 7234 5800
Email: iedmondson@londonandpartners.com
For media information, please contact:
Chloe Couchman
Tel: +44 (0)20 7234 5727
Email: ccouchman@londonandpartners.com
Kirsten Ferguson
Tel: +44 (0)20 7234 5861
Email: kferguson@londonandpartners.com