Totally Thames is a month-long celebration of the Thames aimed at putting the 42-mile London stretch of the river at the heart of the capital's cultural and tourism industry.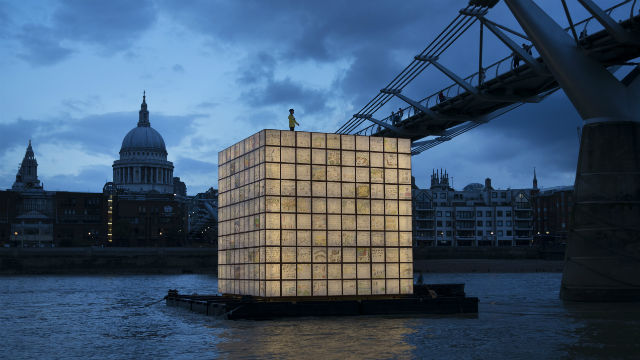 Totally Thames is a month long arts and cultural celebration of the river Thames, which evolved out of the Mayor's Thames Festival.  Taking place during September, Totally Thames brings the river to life via an exciting season of events based throughout the 42-mile stretch of the Thames in London from live art and theatre productions to Tall Ships and paddle steamers
Totally Thames is endorsed and supported by The Mayor of London, London First, Arts Council England, Port of London Authority and all 17 London boroughs with a riverfront. It is organised and delivered by Thames Festival Trust. The charitable trust has a 17-year track record in delivering high quality river and riverfront events including the Thames Festival and The Queen's Diamond Jubilee Pageant.
Totally Thames aspires to: 
Increase visitation to the multiple assets and attractions on the Thames in London
Be widely acknowledged as the best season of river events in the world
In 2014, more than 2.7million people attended over 170 river related events in 15 riverside boroughs along the 42-mile stretch of the Thames in London. London-wide marketing and PR campaign achieved 500+ media breaks to the value of approx. £2 million and reaching 124 million people.
Our involvement:
Recognising the appeal of the Thames to our audiences and the strength of a month long sell around 'River Month' in September we have sat across a number of working and comms groups providing expertise and advice.  
L&P have led on marketing and PR support for visitors to London, hosted events to promote the umbrella campaign to our partners and introduced new events to the organisers enhancing the wealth and breadth of the offering. 
Moving forwards there is a role helping to develop the event into more of an international offering encouraging more spike events like Tall Ships that provide a reason to travel/attend.
Boris Johnson, Mayor of London, said: "Without the River Thames, there would be no London; this flowing thoroughfare has played a vital role in the history and success of our city. Fêted in art, poetry, music and film, it has provided a watery stage for major events, from the London 2012 Opening Ceremony to the Diamond Jubilee Pageant. Totally Thames is another great celebration of the river, which I hope will make people appreciate its significance even more, whether they use it for commuting, for transporting goods, or for pure pleasure."
London & Partners Major Events Team
Georgina Warren - Senior Project Manager, London & Partners and Totally Thames Steering Group Member
Andrew Cooke - Chief Operations Officer, London & Partners and Totally Thames Board Member.
Antonia Lee - Project Marketing Manager
Digital and marketing support from the leisure and major events teams